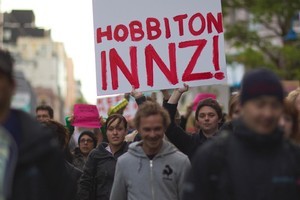 Supporters of Sir Peter Jackson will mobilise across the country today to show support for moves to keep filming of the Hobbit in New Zealand.
Organisers of the rallies said they are timed to coincide with the visit of Warner Bros movie executives to discuss moving the two film adaptation of the J R R Tolkien fantasy away from NZ.
The three executives are expected to meet to the films' director Sir Peter Jackson today and Prime Minister John Key in Wellington tomorrow.
Last week Sir Peter said studio representatives would be in New Zealand "to make arrangements to move the production offshore".
This followed an international union boycott over local actors' wishes to negotiate a collective contract. Actors' Equity subsequently withdrew the international do-not-work recommendation on The Hobbit.
And yesterday the head of the Council of Trade Unions (CTU) said the public should not be under the illusion that there were any industrial issues remaining over filming.
CTU president Helen Kelly said Actors Equity, and its related Australian-based union Media, Entertainment & Arts Alliance (MEAA) had given an absolute assurance that there would be no disruption to the filming of The Hobbit in New Zealand.
"I sincerely hope Warners accept that assurance."
The rallies have been called for by Auckland actor Mark Harrison and are set to start at 1pm in Wellington, Auckland, Christchurch, Hamilton, Queenstown and Matamata (where the Hobbiton sets have been built).
At the weekend, leading United States showbusiness publication Variety reported that it now appeared more likely the movies would be filmed in New Zealand after the threat of labour disruption had receded.
- NZPA