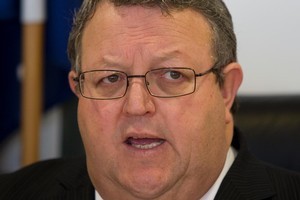 An Otago University employment law specialist has criticised the Government's suggestion that law changes could be made to suit the producers of The Hobbit movies.
Professor Paul Roth said it was "business as usual" in terms of New Zealand lawmaking, showing what a Third World country New Zealand was. "If that's what the Government wants to do, it can do it."
It showed that rather than being a First World country, New Zealand was "teetering" on Third World status - prepared to "basically lie back and prostitute ourselves to get more employment into this country".
New Zealand was a "small and poor country" trying to attract big business.
Professor Roth said a law change specific to the film industry could set a precedent so that any time an industry looked likely to be damaged by overseas competition, similar action might be required.
In this instance, movie producer Sir Peter Jackson and money were driving any law change, not principle or justice.
Economic Development Minister Gerry Brownlee has suggested the Government might look at the law to clarify issues relating to the difference between an employee and a contractor.
Professor Roth said there had been thousands of cases on this issue around the Commonwealth and the rest of the world. "It is probably the most considered issue in employment law."
A 2005 Supreme Court case cited by Mr Brownlee involved James Bryson, a special effects worker for The Lord of the Rings at Sir Peter's production company, Three Foot Six, who was made redundant and sought to claim unjustified dismissal.
To do this, he first had to establish he was an employee, not a contractor. The court found he was an employee.
One of the issues that worked in Mr Bryson's favour in his claim to be considered an employee was that he had to be trained by the company. If he had been trained by someone else, said Professor Roth, that might have been different.
- OTAGO DAILY TIMES