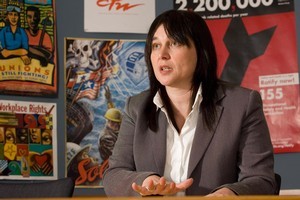 Trade union council president Helen Kelly has apologised for calling Peter Jackson a "spoiled brat" but is not sorry for backing industrial action that may see filming of The Hobbit moved overseas.
Her apology comes as one of the newly cast stars in the Lord Of The Rings prequel speaks out about the dispute.
Scottish actor Sylvester McCoy, famous for his role as sci-fi's Dr Who in the 1980s, was this weekend cast as wizard Radagast the Brown in the film.
Speaking at the Armageddon Expo in Auckland yesterday, McCoy said he - like all of New Zealand - was still waiting to hear where and when filming would go ahead.
His London agent had even set up a Google alert to find out information about the project.
McCoy said he flew to Wellington on Thursday for meetings with Jackson and co-producer and co-writer Philippa Boyens about The Hobbit. "They are wishing they can just get on with it," he said.
Despite being cast, McCoy has not yet signed a contract. And he has not talked to any New Zealand actors about the industrial issues nor his colleague and fellow cast member Sir Ian McKellen, tipped to play Gandalf again. McCoy starred opposite McKellen in the Royal Shakespeare Company's production of King Lear that toured New Zealand in 2007.
On that trip, Jackson hosted McCoy at his country estate in the Wairarapa. "There are secret passages, a man-made lake and a man-made island, a ruined castle with tunnels. It's great. They are very kind, welcoming people."
McCoy said: "Everybody wants to make it here.
"It would be horrible if it was made anywhere else."
A month ago the New Zealand actors' union Actors Equity issued members with a do-not-work order, preventing actors from working on The Hobbit without a union-negotiated contract.
The film's producers refused to negotiate, saying the actors would need to talk to the national producers' body, SPADA. Actors Equity and SPADA met last week and withdrew the do-not-work order.
The boycott has divided the local film industry. More than 1000 angry film technicians, concerned their livelihoods were at stake, protested in Wellington this week. The union cancelled a meeting in Auckland the following day fearing more tension.
On Friday, Jennifer Ward-Lealand, president of NZ Actors Equity, said they had provided "unequivocal" assurances to Warner Bros - whose executives arrive in the country next week - that there would be no industrial action on the film.
President of the New Zealand Council of Trade Unions Helen Kelly told the Herald on Sunday she was not sorry for the dispute as it began as a simple request to negotiate conditions.
"I personally regret calling Peter Jackson a brat. That was not helpful," said Kelly. "I shouldn't have said that, because he is not a brat. He is clearly deeply hurt ... and it's not my style to usually get so personal."
However, she believed most New Zealanders supported the right to collectively bargain.
Back at the Armageddon Expo, Stargate Atlantis actor Torri Higginson told the crowd it would be "insane" if The Hobbit was not filmed in New Zealand. "If anyone knows him [Peter Jackson] tell him I'll work for free," said Higginson. "F*** the unions."
Keep The Hobbit Shoot in New Zealand rallies:
* 12.30pm-2pm tomorrow
* Auckland: Queen Elizabeth II Square (opposite Britomart) Wellington: Civic Square
* Christchurch: Cathedral Square
* Hamilton: Garden Place
* Matamata: The Gollum statue
* Queenstown: The Village Green