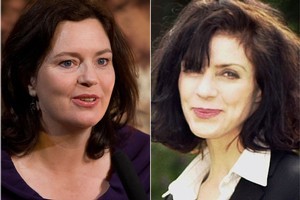 A New Zealand Actors' Equity meeting to be held in Auckland tonight has been cancelled.
The meeting was expected to take place in Ponsonby at 7pm.
Linda Bridges from Talent Banque says she understands it's been cancelled because of plans to picket from technicians and other workers in the film industry over the threat to filming The Hobbit in New Zealand.
She says it's clear the Actors' Equity wants to avoid that happening.
Ms Bridges says non members were only going to be allowed into the meeting if they joined the union on the door.
Hundreds of film technicians last night marched through Wellington calling for status quo in the industry. The technicians had intended to protest outside an Actors' Equity meeting but that meeting was also called off.
"The spectacle of [the union] suddenly cancelling their Wellington meeting because film workers wanted to express to them their concern at losing The Hobbit exemplifies the pure gutlessness of this small, self-centred group," Sir Peter Jackson said.
The union had put at risk the livelihoods of thousands of workers and jeopardised a potential investment of billions of dollars into the New Zealand economy, he said.
John Key to lobby Warner Brothers
Meanwhile Prime Minister John Key says he is prepared to meet Warner Brothers in a bid to keep The Hobbit in New Zealand.
In a joint statement released early today, Sir Peter and Fran Walsh, his wife and filmmaking partner, said representatives from Warner Bros were flying to New Zealand next week to arrange moving the production overseas following a standoff with unions.
Click here for the full statement.
Mr Key said he was keen to meet them next week.
"I think we have a strong position, but the industrial action from the unions ... has substantially undermined the confidence that Warner Brothers has in New Zealand," he told Radio New Zealand.
"The Government will have to sit down and talk to them and see what we can do to restore that confidence."
Sir Peter last week secured his role as the film's director, but the row with the union still threatens production in New Zealand.
New Zealand Actors' Equity had advised its members not to accept work on the two-part adaptation of the JRR Tolkien novel after the filmmakers refused to enter into a union-negotiated agreement.
Warner Bros' confidence undermined - Jackson
Sir Peter said the union's actions had undermined Warner Bros' confidence in the industry and "they are now, quite rightly, very concerned about the security of their US$500 million ($669.32m) investment.
"Unfortunately lifting the blacklist does nothing to help the situation," said Sir Peter, as the damage inflicted on the industry was long since done.
Ms Walsh said today Warner Bros had people in the United Kingdom eyeing a huge studio Harry Potter had vacated.
"They are saying they need stability and certainty, neither of which are here. Our film industry used to have that. It used to be a place where people would look to New Zealand and say we can make a film there. Now they do not think that," Ms Walsh told Radio New Zealand.
"That's how much we've fallen in the eyes of the rest of the world. It's an absolute tragedy."
Hobbit 'slipping through our hands'
Earlier today, The Hobbit films' co-writer Philippa Boyens said the movie was slipping away from New Zealand despite the best efforts of its producers.
"We can literally feel it slipping through our hands," said Ms Boyens.
"We've had it. We've fought as hard as we can. We are in a situation where we are fighting to save it.
"Unfortunately it feels to us like this conversation is already done. We don't know how far we have to go to retrieve the situation."
Delays to shooting as the result of industrial action had already lost the studio millions of dollars, she said.
NZ Government being 'bullied'
But Council of Trade Unions president Helen Kelly, who has been involved in union talks, said the industrial issues were on their way to being resolved, with the blacklist lifted last Sunday.
"Warner is aware of that. Jackson is aware of that," she told Radio New Zealand.
Ms Kelly said other countries had offered a deal that was double New Zealand's 15 per cent tax rebate for films.
"There is a theory that this whole thing has been blown up, that the genuine request by performers to negotiate the terms and conditions has been used to put pressure on the Government to change the terms in which this film will be made in New Zealand," she said.
"It's an international corporation bullying our government to match conditions that are available in other countries."
Finance Minister Bill English did not comment on whether the Government had offered a tax rebate of 30 per cent to Warner Brothers when asked about the issue by the Herald this morning.
"There is always generous assistance to the film industry and there would be pretty generous support for this film if it's done in New Zealand."
NZ Equity member Robyn Malcolm said she wondered how asking for better conditions could have derailed a multi-million movie in New Zealand.
"I feel there is an enormous amount of inflammatory and dramatic language and the dispute could have been solved by a mature conversation about a month ago," she said.
Financial impact
Economic Development Minister Gerry Brownlee told TVNZ's Breakfast this morning he had hoped some of the achievements Sir Peter and Ms Walsh had made for New Zealand could have led to a situation where production of The Hobbit was in much better shape.
"It's utterly appalling that they have been treated like this, and it's worse, I think, that we've got an Australian union purporting to represent the industry here in New Zealand," he said.
"The moment we had the 'don't work' order on The Hobbit issued through the Australian union, we were cast into the uncertainty that a lot of the film world through other countries operates in," Mr Brownlee said.
"It's a dreadful situation and it's going to take a bit of work to even get future productions into good shape."
The Employers' Chamber of Commerce Central's president Jo Bransgrove said there would be a huge economic loss if the filming was lost abroad.
"The filming of The Hobbit provides an opportunity for the creation of thousands of jobs and the injection of millions of dollars into the local economy.
"The economic momentum generated from the success of the Lord of the Rings trilogy would be lost if it does not go ahead," she said.
"The stakes are high. The film industry is crucial to both the Wellington and New Zealand economies. But our reputation as a good place to make films is at risk.
SPADA (The Screen Production and Development Association of New Zealand) chief Penelope Borland told National Radio the production was "100 per cent on track until the boycott".
"The boycott will be totally responsible if it goes offshore," she said. "It is a case ... of the union not understanding this was real that it could have gone offshore."
- with Newstalk ZB