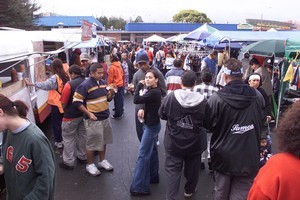 Huge support for Len Brown in South Auckland won him the leadership of the Super City and sank the dreams of John Banks, voting figures show.
Residents of Otara, Papatoetoe, Mangere and Manurewa voted by eight to one in favour of Mr Brown and accounted for more than 70 per cent of the Manukau Mayor's 65,945 winning margin over Mr Banks.
The gulf between the left and right-wing candidates was most noticeable in Otara, where Mr Banks received only 348 votes to Mr Brown's 8128.
As well as trouncing Mr Banks in South Auckland, Mr Brown beat him in his home patch of Auckland City by about 500 votes, the figures show, and won the vote in Waitakere, Franklin and Papakura.
Mr Banks won in North Shore and Rodney, two National Party strongholds.
In the final week of the campaign, the Auckland City Mayor urged voters in North Shore and Auckland City to vote for him in big numbers.
"If they don't turn out and vote, we are going to get a Labour mayor from South Auckland," said Mr Banks, who days earlier said "we don't want South Auckland replicated across the rest of Auckland.
His [Brown's] city is a social disaster."
Social disaster or not, the voters of South Auckland ensured Mr Banks did not become their master.
In a turnaround from a low voter turnout at the 2007 local body elections, Mr Brown's campaign team mobilised South Aucklanders through churches and unions to vote in equal numbers to residents in the other major cities.
Of the 35 local board and subdivision figures released yesterday, Mr Banks scored only one big win - in blue-ribbon Orakei, where he lives in Remuera.
But even in Orakei, Mr Brown attracted 9793 votes to Mr Banks' 22,422.
Mr Banks' winning margin of 12,629 votes in Orakei was eclipsed by Mr Brown winning Mangere-Otahuhu by 14,703 votes, Manurewa by 15,914 and Otara-Papatoetoe by 17,519 votes.
Left-wing commentator Chris Trotter said the results showed Mr Banks was out of tune with Auckland in seeing the city in his own image.
"There is an Auckland that doesn't know the South, that talks in an almost hushed tone about South Auckland."
He said South Auckland held the key not only to local government, but national government.
"Len Brown has lived in that community and knows it well and they know him, and those results are reflected in the intimacy of that relationship."
Mr Trotter said it would be interesting at next year's general election to see whether the Labour Party could repeat what Mr Brown had done.
"If they can, then I think the calculations of power could be changed quite dramatically."