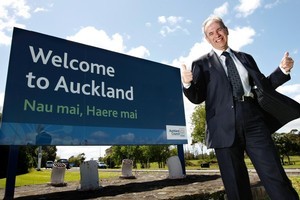 Mayor-elect Len Brown gave the thumbs up to the new Welcome To Auckland sign welcoming people to the Super City.
The sign is particularly significant for the former Manukau mayor - the sign has replaced the old Welcome To Manukau billboard.
The George Bolt Memorial Drive sign features the new Super City logo of a stylised pohutukawa flower.
The logo is the work of former commercial artist Jim Dean of Manukau. His design was chosen from more than 1500 entries in a public competition run by the Auckland Transition Agency.
This sign is the first of 86 to be placed around Auckland to re-brand the city before the new council comes into effect on November 1.