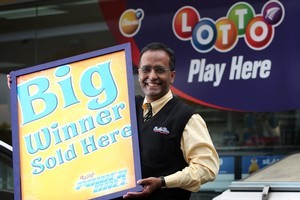 To the winner the spoils, to the losers - well, there's always next week.
The biggest Lotto Powerball win of $28.7 million had been claimed, NZ Lotteries said, and the winner could have the tax-free lump sum in their bank account by the end of today.
NZ Lotteries spokeswoman Karen Jones said the "shocked" winner called a hotline, believing they were the winner, about lunchtime yesterday.
"They spoke to a colleague of mine. She reported that they were very, very shocked but very, very happy at the same time."
Ms Jones said she was satisfied the person had the winning ticket, which was bought at Mobil on the Run in Papakura.
However, the claimant has asked for privacy.
To claim the prize, the winner could present their ticket at a Lotto outlet or, as often happens, fly to Wellington to claim the prize.
Ms Jones said the winner was "taking their time" on deciding what to do.
"But "we've decorated the room, we've got the champagne ... we've blown up the balloons, we're all ready for them", she said.
An advice booklet for winners - financial and emotional - had been handed over, because such large windfalls left the recipients with big decisions to make.
It included advice from private bankers around the country "because clearly with that amount of money you will be able to get private banking services at any bank. In fact, we've already been emailed by the banks saying: 'We'd love you to pass on our details'."
Bernard Hickey, director of interest.co.nz, said if the winner or winners deposited the entire prize in a bank for one year, based on the average of 5.3 per cent interest, they would get a $1.5 million return, which equates to $4167 a day.