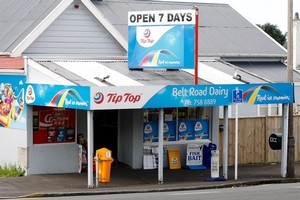 A woman whose family business has been targeted twice this year says her children are fearful and want her to sell her shop.
The mother of two, who only wanted to be identified as Fei, was getting ready to shut up shop at the family's Belt Rd dairy in New Plymouth on Saturday when a man stormed inside.
Fei had gone to the bathroom in the back of the store and had told her 10-year-old daughter to watch the security screen in the back room.
"I heard her yell 'Mummy, mummy, there is a bad man in the shop'."
Fei said she ran to where her daughter was to find that the man had left. He was in the shop for only about two minutes, she said.
Police have arrested a 21-year-old man, who will appear in the New Plymouth District Court today, charged with aggravated robbery.
Security camera images show a man standing outside the shop briefly before putting on a balaclava.
He then runs into the shop and behind the counter, putting cigarettes and packets of tobacco into his bag.
Earlier reports said the man pointed a gun at the girl, but this was not correct.
Speaking at her shop yesterday, Fei she said her children were afraid and had pleaded with her and her husband to close the family business.
"They say 'Mum, Mum it is too dangerous. Let's close it down'."
Fei said she was feeling stressed. The robbery comes months after a group of teenagers pointed a gun at Fei's husband and demanded money. The couple's two children saw the attack, and were forced to hand over money while the gun was held to their father's head.
Fei said her children refused to go outside after that attack, while her husband went to China for a month to try and forget the incident.
Yesterday neighbours arrived with cakes and flowers, reassuring the family they had support.
Fei said although the incidents had left the family shaken, shutting the shop was not an option.
"We need the money to support our children and our family," she said.
Police are appealing for anyone who might have seen the man at the store.
He was about 1.8m tall and was wearing dark coloured pants, a black dress shirt and a balaclava.