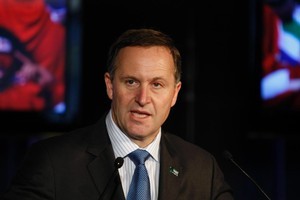 The Government is claiming credit for low price rises, saying people have more money in their pockets on the back on low inflation and increasing wages.
Data from Statistics New Zealand (SNZ) released today showed the annual inflation rate is the lowest it has been since March 2004 - at 1.5 per cent.
The consumer price index (CPI) rose 1.1 per cent in the September quarter, led largely by a 2.4 per cent increase in food prices.
Despite the increase in food prices in the September quarter, they are only 0.1 per cent ahead of the level a year ago after falls in food prices were recorded in two of the past three quarters, including a 2.4 per cent fall in the December quarter.
About one-quarter of the electricity increase was due to retailers charging 15 per cent GST on electricity consumed in the September month and invoiced in October, SNZ said.
ANZ economists said that with GST-induced rises from October 1, they expected annual CPI inflation to exceed 5 per cent by mid 2011.
Finance Minister Bill English compared the annual inflation rate announced today, 1.5 per cent for the year to September, to the 5.1 per cent under the previous Labour Government.
He also released figures which he claimed showed real after-tax wages had risen under National (from minus 1 per cent from December 2006 to September 2008, to 9 per cent in September 2008 to June 2010).
"The facts speak for themselves... not only are price increase significantly lower across the board under National but real and after-tax wages have increased," he said.
Prime Minister John Key also said the CPI figures showed increases in the cost of living had been generally low.
"It also confirms that Phil Goff was wrong when he suggested that New Zealanders were better off under Labour."
He said the so-called tax-switch - lowered income tax rates and a rise in GST to 15 per cent - left people better off and with a greater incentive to save.
That rebalancing of the economy was seeing more people save but meant unemployment remained high - 6.8 per cent in the June quarter Household Labour Force Survey.
Treasury figures estimated unemployment would track down to around 5 per cent in two years.
Mr Key said unemployment was always a lagging indicator.
Increased government spending, low interest rates and reduction in personal tax rates, were the ways to promote long-term economic growth, he said.
The Government was not currently considering a job creation stimulus package but always monitored the situation, Mr Key said.
"It's good orthodox economic policy but it actually works, gimmicks in economics for the most part don't."
Labour finance spokesman David Cunliffe said the CPI reflected increases in basic costs and were a further blow for those left behind by National's tax switch.
"The Government claims it is rebalancing the economy, but any rebalancing it is doing is making it tougher for Kiwis who already have it far too tough and easier for wealthy Kiwis who already have it good," he said.
- NZPA