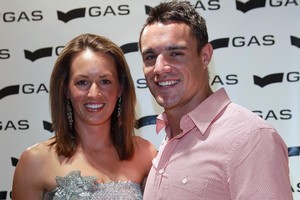 All Black heart-throb Dan Carter hatched a plan to lure girlfriend Honor Dillon to Queenstown last weekend before taking her on a helicopter ride and asking her to marry him.
Dillon, 28, a former Black Stick and Carter's girlfriend of eight years, accepted his proposal, and likely dashed the hopes of adoring women across the globe.
On his Facebook fan page, Carter, also 28, yesterday said the couple had not made any wedding plans yet.
"Thought I'd let u know I asked my long-term girlfriend Honor to marry me & she said yes. We are very happy & looking forward to spending our future together," he wrote.
Carter's proud father, Neville Carter, told the Weekend Herald his son had spun a story of having to go down south for the weekend to shoot some advertisements and that he had been offered a free helicopter ride.
He was not sure if Dillon had an inkling beforehand of what was coming.
Carter organised for both sets of parents to fly down to Queenstown before the proposal, and they all went out for a meal together on Saturday night.
"He had everything organised. Everything was spot on."
"All I know is that she said yes, and he was pretty happy.
"It's great - it's something we have always been looking forward to. But I suppose with rugby it's a case of fitting it in really."
Carter seemed pretty relaxed before proposing.
"They have been going together for eight years. Surely they must have discussed it at some stage."
There had been no talk yet of when the wedding would be held.
Neville Carter joked that there would be thousands of women disappointed his son was off the market.
"Some of them will be gutted ... there's still Richard Kahui and Richie McCaw, so they have still got things to work on."
Carter and Dillon met through university friends in 2000 and started dating a couple of years later.
They now split their time between Auckland and Christchurch.