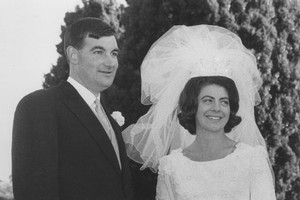 Police Association president Greg O'Connor believes the Crewe murders case should be re-opened, saying the framing of Arthur Allan Thomas has been a black mark against police.
Detective Inspector Bruce Hutton and Detective Len Johnston buried a shellcase from Arthur Allan Thomas' rifle in the garden of Jeanette and Harvey Crewe to link him to their murders.
Mr Thomas was found guilty of the murders and spent nine years in prison before being pardoned in 1979.
Justice Robert Taylor, Australian head of the 1980 royal commission of inquiry into the case, said it was "an unspeakable outrage" that the two officers framed Mr Thomas.
But the following year, Solicitor-General Paul Neazor, QC, decided against charging the pair because he believed there was not enough evidence to justify a prosecution.
"When you consider that my generation of police officers have had that thrown in our faces continuously .. maybe a properly conducted inquiry wouldn't be a bad idea," said Mr O'Connor.
Police Commissioner Howard Broad has said he will consider re-opening the case, but the Government says it is unlikely to set up an independent inquiry to have another look at the case.
Rochelle Crewe, who was 18 months old when her parents Harvey and Jeannette were murdered in 1970, has written to Mr Broad asking for justice.
"In reopening the case, I am seeking truth and justice as to what happened during the original investigation and what really happened to my parents, Jeannette and Harvey Crewe," she told the Herald.
Commissioner Broad said this morning he had received the letter from Ms Crewe.
"I haven't decided what I'm going to do yet. I'll give it some consideration and decide what to do.
"It may be a very long shot to expect that any other sort of court action might flow from this. What's coming out is that there are a lot of unanswered questions about this case, and a lot of contested questions, and people are looking for answers.
Whether or not it's possible to do that, I'm not sure.
"This is a case that's had an awful lot of attention. We've basically had people who have continued making inquiries into it effectively since it happened. Whether there is anything really fresh in amongst all of this that would cause anything quite so substantial, I'm not sure."
When asked about Ms Crewe's quest for justice, he said: "That's the issue here. These are questions about a case that happened a long time ago and sometimes there is not satisfaction."
Prime Minister John Key said it was unlikely that the Government would set up an independent investigation, but he did not rule it out.
"We haven't seen any formal indications that that should or could happen. It obviously happened an awfully long time ago. I wouldn't want to rule that out but I wouldn't have thought it's terribly likely. It's nearly 40 years on now.
"A formal application would have to be made ... and that would have to be considered. We would have to get some advice on what happens from there, but given the length of time that's gone on, I would imagine it would be extremely difficult to do that. Not impossible, but difficult.
"We'll take a look at it if it comes our way."
He said he remembered the case from when he was young.
"It's been one of those unresolved mysteries for a long time."
Ms Crewe also asked for Detective Inspector Bruce Hutton and Detective Sergeant Len Johnston to be prosecuted for planting evidence to set up Mr Thomas for the murders.
"The [1980] commission did have access to live witnesses and direct evidence and reached its conclusion that Hutton and Johnston did plant the cartridge case and fabricate evidence. At the very least, the Solicitor-General should have given a court the opportunity to reach a decision on the same basis," Ms Crewe said in her letter.
"Instead, the Government's failure to act allowed speculation to fester and harm our family and others."
Commissioner Broad said he had read the legal opinion that recommended against prosecution.
"It's a fairly full legal opinion and ... it's quite difficult to second-guess that opinion. That opinion was a valid opinion, the most persuasive one at the time, and unlikely to be changed, unless there's new evidence, by just a fresh look at the law."
Mr Key said he did not want to comment on whether a prosecution could be mounted.
"There's been a long period of time and satisfactory answers haven't been found in the past and there's no guarantee they'd be found in the future. Taking one element of it may not necessarily change anything."