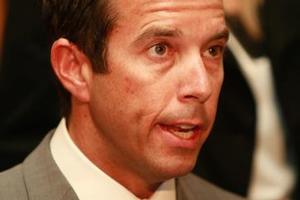 Controversial sports broadcaster Tony Veitch has been given his old job back as the breakfast presenter on Radio Sport.
"D'Arcy Waldegrave will be moving from breakfast to the late-afternoon drivetime programme, and this provides an opportunity for Tony to host the show after nearly a year of sports-news presenting and back-up sports hosting with Newstalk ZB and Radio Sport," said Dallas Gurney, general manager of talk programming for The Radio Network (TRN).
"Tony is a quality sports presenter and we are very pleased to be able to give him this opportunity to host the breakfast programme again," said Mr Gurney. "He is the natural choice."
Mr Veitch was suspended then resigned as the Radio Sport breakfast host in July 2008 after details of a domestic dispute were made public.
He was sentenced in the Auckland District Court to 300 hours' community service and fined $10,000 after pleading guilty to reckless disregard causing injury.
He admitted kicking former partner Kristin Dunne-Powell in the back, fracturing her spine.
"Tony has worked hard to re-establish himself, and has been well accepted," said Mr Gurney.
In a TRN press release, Mr Veitch said: "For me, starting again on the breakfast programme represents a new challenge and I look forward to creating a fresh show in 2011.
"I can't wait to begin this next chapter in my life. I'm very grateful to The Radio Network."
Mark Richardson, who hosts Sky TV show The Crowd Goes Wild, will move from co-hosting the breakfast programme, allowing him to concentrate on his television responsibilities. He will remain with the station on a part-time basis, said Mr Gurney.
Tony Veitch
* July 7, 2008 - reports first surfaced that Veitch allegedly beat former girlfriend Kristen Dunne-Powell in 2006. The following day it was revealed he secretly paid Ms Dunne-Powell more than $100,000 to stay quiet.
* July 9, 2008 - Veitch admitted "lashing out" and blamed the stress of his two profile jobs. In the coming days he was suspended by Radio Sport and dropped by TVNZ for its Olympic coverage.
* July 17, 2008 - a formal assault complaint was laid by Ms Dunne-Powell against Veitch.
* August 18, 2008 - Veitch is charged with six counts of assault and one of injuring with reckless intent.
* April 2009 - Veitch pleaded guilty to injuring with reckless disregard, while the six assault charges were dropped. He was sentenced to nine months supervision, 300 hours community service and a $10,000 fine.

* January 2009 - Employed back at Radio Sport as sports-news broadcaster.
- NZ Herald staff