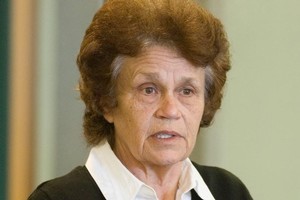 A woman called police to her home after her husband grabbed her around the throat, months before she killed him with a shotgun blast to the chest.
Dale Wickham, 62, is on trial at the High Court in Auckland for murdering her husband, John, in their West Auckland home one year and one day ago.
Wickham has pleaded not guilty and her lawyers argue the shooting was in self-defence.
The Wickhams were married for 40 years but evidence read at court yesterday showed Mr Wickham planned to separate and had drawn up an agreement between him and his wife in the year he was shot dead.
Two police officers were called to the Wickham home in Massey on New Year's Day last year after Dale Wickham found $8000 in a file. She said she was preparing lunch when her husband grabbed her around the throat and the pair fell to the kitchen floor.
Wickham, who has multiple sclerosis and walks with the aid of a stick, told Constable Hayley Kenna she had "no muscle" and could not fight back.
Constable Ian Carter said he spoke to Mr Wickham at the same time in a separate room. He said Mr Wickham told him he had slipped on the kitchen floor and put his arms out, dragging his wife to the floor.
Mr Carter said he asked Mr Wickham if he had grabbed his wife's neck and Mr Wickham said his hands "must have gone around her somewhere".
"She declined to make any complaint and she was adamant that she did not want John Wickham removed or charged," Mr Carter said.
He said Wickham asked him if he could see marks on her throat.
"I said: Yes, but I've also seen you rubbing your neck," Mr Carter said.
Under cross-examination from Michele Wilkinson-Smith, Mr Carter confirmed that Wickham's rubbing of her throat was consistent with her having a throat injury.
"If someone wanted to fake marks on their neck, they wouldn't do it in front of a police officer?" Ms Wilkinson-Smith asked. Mr Carter said: "No, you would not".
Wickham's other lawyer, Sanjay Patel, told the jury that the defence case was based on self-defence.
"You will need to step into the shoes of Mrs Wickham and judge it in her eyes and to do that, you will need to labour under the physical debilitations that she was under at the time."
Mr Patel introduced Stephen Robinson, a neighbour of the Wickhams, who said he was on his way to buy milk three days before the killing when he saw Mr Wickham take a shotgun out of his red van and into the garage of the couple's Massey home.
Both sides are due to sum up today.