Click here to read Geoff Cumming's earlier profile of Len Brown.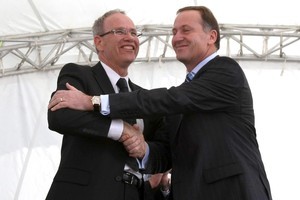 Len Brown wasted no time yesterday in telling the Government that the huge mandate he has as mayor-elect of the Super City will be focused on three rail projects in Auckland.
Mr Brown met Prime Minister John Key at the opening of Eden Park, and while it was a happy occasion, both leaders staked out their positions on the future of Auckland.
But there was visible warmth and respect between the two leaders, even though they come from different sides of the political fence.
Mr Key spoke of a "positive relationship" with Mr Brown, the Manukau City Mayor and Labour Party member who will be sworn in as the leader of the biggest council in Australasia on November 1.
After his big win over John Banks on Saturday, Mr Brown said yesterday that his total focus was on uniting Auckland and advancing the three rail projects with "real pace".
Mr Brown wants to build a $1.5 billion inner-city rail loop within five to seven years, a rail link to the airport within 10 years and a line to the North Shore via a new harbour crossing within 15 years.
Mr Key said politicians had to have a vision and a dream to get elected, but there was also the issue of practicality.
The Government did not have an open chequebook.
It had spent about $1.5 billion on double-tracking, electrification and new rolling stock for rail in Auckland, "but what happens beyond there is something we will have to sit down and have a discussion about".
"But we need to get Auckland moving more quickly because we know from all the research that if your major city is powering ahead and doing well it lifts your national economic growth exponentially."
Aucklanders have voted for a left-leaning council that Mr Brown can work with.
The centre-right Citizens & Ratepayers ticket fell well short of its goal of winning 10 or 11 of the 20 seats. It has five councillors, and most of those will work with Mr Brown.
The council is a balance of experience, youth and gender. It has eight women councillors, five sitting or former council leaders, and two Pacific Island and two Maori councillors - but no representatives from any other ethnic groups.
On TVNZ's Q & A yesterday, Mr Brown said a referendum on creating Maori seats on the council "may well" be possible in the next three years.
"I want us to have a full debate across the community, and I want to find out the best way of including the whole community in that," he said.
"But I want to see Maori representation, particularly mana whenua [local tribal] representation on that council."
Mr Brown will appoint a deputy mayor within days. Waitakere Deputy Mayor Penny Hulse and Rodney Mayor Penny Webster are thought to be leading contenders, and both say they would accept if asked.
Under the Super City reforms, Mr Brown has the power to appoint the deputy mayor and the leaders and members of council committees.
He is keen to clarify the roles and responsibilities of the 21 local boards before November 1, when the Super City comes into being.
He is also conscious of public concerns about the seven council-controlled organisations that will run more than 75 per cent of council services.
He plans to to talk with Mark Ford, chairman of the agency designing the Super City, who has been given control of the transport and water CCOs.
"He and I will be having a discussion. I acknowledge there is concern in the wider community [about Mr Ford] and I will deal with that concern," Mr Brown said.
Local Government Minister and Act leader Rodney Hide said the decisive result was good for Auckland.
Asked about the election of a left-leaning mayor and council, he said, "That's politics".
It was in the political best interests of both sides to work together to do a good job for Auckland.
Mr Hide said he had called Mr Brown and as many Auckland councillors as possible.
He had also spoken to Mr Banks and commiserated with him.
"I said, 'Bit of a bugger, but these things happen'," Mr Hide said.
When Mr Key and Mr Brown bumped into each other at a public concourse in Eden Park's new East Stand, the Prime Minister congratulated the mayor-elect and said he was looking forward to working with him.
Mr Brown said: "We absolutely stand united in our hope for Auckland. It's a great working relationship with the Prime Minister. We are going to be absolutely fine."
- additional reporting, Claire Trevett