Click here to read Geoff Cumming's earlier profile of Len Brown.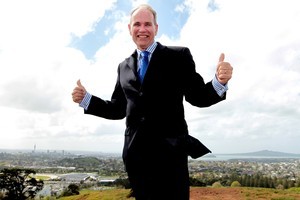 New super city mayor Len Brown says his focus is on uniting Auckland - and reassuring people about the changes ahead.
Last night Mr Brown partied on top of One Tree Hill after beating rival and Auckland mayor John Banks by a whopping 60,000 votes.
Speaking to NZPA at the official opening of Eden Park today, Mr Brown said he would also be keeping a close eye on infrastructure leading up to the Rugby World Cup.
"The Auckland super city council will be totally behind that to make sure that from day one this Rugby World Cup absolutely takes off," Mr Brown said.
He said he would be having discussions with other councillors today and in the days ahead to make sure the new super city council gets off to a great start.
"My total focus is uniting Auckland. I have a strong value of inclusiveness so I'm reaching out to all of our communities, and in particular, settling people's nerves about the change," he said.
Mr Brown added that it was important that everything was in place for the inauguration on November 1.
"That gives us a pretty clear time-frame and I want to make sure we get started with some real pace and we're quite clear about the projects that we're promoting," Mr Brown said.
Mr Brown added he was also looking forward to continuing his strong working relationship with Prime Minister John Key.
"John and I have worked very closely over the last two years during my time as the Mayor of Manukau, so it's just business as usual," he said.
Mr Brown said his push to deliver rapid transit in the city would not cause friction with the National-led government.
"This is a vision for the future. It's not tomorrow, or next week or next month or next year. It's the next 15, 20, 25 years. It's about internationalising Auckland and enabling it to step out on the international stage and deliver the economic gains we want," Mr Brown said.
Mr Key passed on his congratulations to Mr Brown today at Eden Park.
"He ran a great campaign and now he's got the hard work in front of him which is to get all the pieces of Auckland and make it a world class city.
"We always take Auckland seriously. It's home to a third of the population, and a third of the economic growth of the country.
"The reason we actually re-formed Auckland was because we believed there was much greater potential," Mr Key said.
Mr Key said the Government was very committed to rail in reply to Mr Brown's push for rapid transport.
"We've considered double tracking the western line, electrification and also buying new rolling stock.
"What happens beyond there is something we need to have a discussion about, and ultimately one of the questions will be who will pay for it and how much will it cost?" Mr Key said.
He added there were always tensions between local government and its relationship with central government when it comes to funding, which was not unique to Auckland.
"We need to get Auckland moving more quickly because we know from all the research we see that if a major city is powering ahead and doing well it lifts national economic growth.
"We're spending a lot on rail, the question is whether we need to spend a whole lot more," Mr Key said.
Labour Leader Phil Goff added his congratulations to Mr Brown, and said that the new mayor had done an exceptional job convincing Aucklanders he was the best person to provide leadership to bring the super city together.
"Labour will enjoy working with the new super city, as it works to overcome the initial teething problems that will inevitably occur, and as it gathers strength in the years to come," Mr Goff said.
"Labour's vision for Auckland has been to see it as a world-class city. I am sure Len shares that vision and will progress it over the next three years."
Maori Party co-leader Pita Sharples said a clear result in the Auckland City mayoral race would be good for the city.
"The new mayor has a clear mandate from the people, which will be important for him as he establishes a unified super-city across a very big region," Dr Sharples said.
"In a leadership role like that, it is important that minority groups do not feel disenfranchised by the election process, and that everybody has a say in the decisions of the council.
"The election result suggests that Len Brown is seen to have a more inclusive approach, which is what the new council will need in the months and years ahead."
Dr Sharples also congratulated Mr Banks for his grace in defeat, and for pledging his support for the new mayor.
"That in itself is a sign of statesmanship," Dr Sharples said.
He said he would be specially interested in how the council worked alongside the Maori statutory board, which had been set up independently of the council to represent mana whenua and taura here as the council's Treaty partner.
Mr Brown will lead the new super city when it comes into force next month. It replaces eight councils in Auckland.
High profile candidate Andrew Williams, former mayor of the North Shore, picked up only 3800 votes, or 0.8 per cent of the overall result.
- NZPA