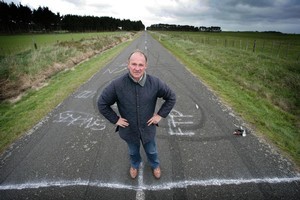 A boy racer gathering ended with near-tragedy when a vehicle ploughed into a crowd of onlookers on a remote rural road.
The 19-year-old woman who was hit suffered a broken pelvis and two broken legs.
The incident happened on Rosina Rd, near the tiny rural Manawatu settlement of Tangimoana, outside re-elected Manawatu district mayor Ian McKelvie's property.
Boy racers had set up a drag strip on the road with start and finish lines about 200m apart.
It was one of two serious crashes in the region yesterday.
A man died when his car hit a concrete post on Colyton Rd near Ashhurst about 1.30pm. He was alone in the car.
Feilding acting Senior Sergeant Kimberley Manderson said the Tangimoana accident happened about 12.30am.
"It appears that alcohol and speed are not factors involved in the incident.
However, inquiries are continuing," she said.
People living in the sparsely populated farming area told the Herald on Sunday Rosina Rd was a popular haunt for boy racers. The few people who lived there were not bothered by them.
St John's Ambulance spokeswoman Penny Poutu said a 17-year-old youth also suffered minor knee injuries during the crash and was taken to Palmerston North Hospital.
McKelvie said Rosina Rd was a mess of tyre marks. It looked as if drivers had been using cars to paint graffiti on the tarseal.
"We got in about 11.30pm and we could hear the noise when we were inside the house." His home is well off the road. McKelvie wasn't aware of the accident until the morning.
He said the damage to the road was "frustrating", but the presence of boy racers on the 2.5km stretch of road had mainly gone unnoticed.
"Until they hit each other," he said.
Police said a person was helping with their inquiries. Boy races can have their cars crushed.