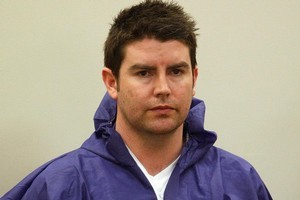 The father of Carmen Thomas-murder accused Brad Callaghan has spoken out for the first time, saying he was "thunderstruck" over her gruesome death.
Phillip Callaghan, 83, said he couldn't believe what had happened and still loved his son.
"It is very, very sad. I don't know how it's going to end. I just hope a genie comes out of the bottle and makes everything okay again," he said.
"I was thunderstruck. It is so hard to fathom. I cannot believe it. So many lives have been ruined."
Thomas' ex-partner, Brad Callaghan, 32, has been charged with her murder. Her dismembered body was found in plastic bins and buried in a shallow grave near a path in the Waitakere Ranges, west of Auckland, last week.
Police are investigating whether other people were involved. The post mortem examination on Thomas, 32, was completed on Wednesday.
Inquiry head Detective Inspector Mark Benefield said the autopsy results would not be made public.
Thomas' funeral will be held on Wednesday at 11am at the Greenlane Christian Centre.
Phillip Callaghan, from Tauranga, said he had not yet spoken to his son. He hoped to visit him in prison later this month. He had last seen his son at Christmas. The pair did not communicate often.
Phillip Callaghan became aware Brad was about to be arrested when his former wife Jennifer - Brad's mother - visited him about three weeks ago. He had not seen her for 27 years.
"My ex-wife came to see me three weeks ago," he said. "It was the first time I have seen her since Bradford was five.
"She put me in the picture. I didn't believe her. I still can't believe it. She said Bradford was in serious trouble."
Phillip Callaghan said it was a very tough time for him.
He would support Brad because he loved him. "He is a wonderful kid. Well, I did love him ... I mean, I still do. I still don't believe it."
He was aware Brad's present girlfriend, Tanith Butler, had had a baby, making him a grandfather again. He had never met Butler and did not know the baby's name.
Phillip Callaghan said he had not seen much of his son since he and his former wife separated.
"When he left varsity he went to Aussie for two years, then he went to England."
Brad Callaghan returned to New Zealand with Thomas, who was pregnant with Jack.
He had last seen Brad, Carmen and Jack at Christmas.
"She was very nice, very pleasant," he said.