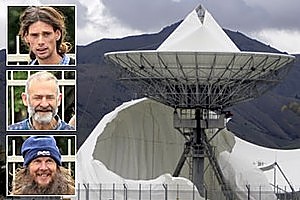 The three men who damaged the Waihopai spy base are being chased by the Crown for $1,229,289, including the cost of beer, juice and savouries for staff who worked to repair the damage.
Teacher Adrian Leason, Dominican friar Peter Murnane and farmer Sam Land were found not guilty by a Wellington District Court jury in April on charges of burglary and wilful damage of the Government Communications Security Bureau (GCSB) base near Blenheim.
They were arrested in 2008 after cutting through alarmed electric fences without setting off any audible alarms or getting electrocuted before reaching one of two inflatable domes covering satellite dishes and slashing and deflating it.
The trio used the "claim of right" defence and said they were saving lives in Iraq by disrupting satellite transmissions and were acting for the greater good.
Court papers were filed by the Attorney-General this week for the GCSB seeking damages from the trio, and documents show how the costs were itemised.
The bulk of the cost of the repairs was for the deflated "teflon-impregnated glass fibre enclosure" or "radome".
The cost to produce, complete and install one of those, including $24,612.05 in "additional charges-delays" was $1,144,774.41.
But the Crown is also seeking $54 for the cost of hiring coffee mugs, $256.38 for the cost of beer and juice for radome staff, another $62.93 for savouries for those staff, and $30.38 for pies and other drinks.
There was also several hundred dollars being sought for tool and safety gear hire, while hire costs for a large and small crane came to $81,438.
The Crown is seeking to have the costs split equally between the three men.
Graham Cameron, a spokesman for the trio, yesterday told NZPA they didn't have much money.
He said it was regrettable but not unexpected that a civil case would be brought against them
Mr Cameron said if there were any positives to take from further court action, it was that it would be another chance for them to question the role of the spy base.
Green Party MP Keith Locke said the GCSB should respect the jury's original decision.
He said in the original trial the GCSB didn't even put up witnesses to challenge the political arguments the defendants used, and this time around its case would be handicapped by its reluctance to tell a court anything about the secretive Waihopai base.
- NZPA