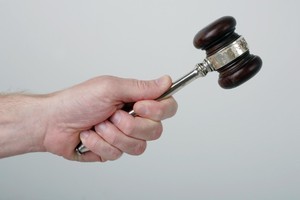 It will be harder to get name suppression in court under changes announced by the Government today.
Justice Minister Simon Power said proposals included automatic name suppression for child victims and substantial penalties for breaches.
Suppression would be allowed when;
* it was needed to ensure a fair trial;
* it would prevent hardship for victims;
* publication of an accused's name would identify a victim whose name was suppressed;
* when it would put someone in danger;
* when naming would create extreme hardship and;
* when publication would impair ongoing investigations.
The changes follow a Law Commission report and will be in a bill to be introduced to Parliament before the end of the year.
The maximum fine for an organisation which breaches a suppression order has also been increased dramatically, from $5000 to $100,000. For individuals the maximum penalty has increased from three months imprisonment to six months.
Mr Power said the Government's proposals would give judges "more clearly defined and tighter grounds" for applying suppression orders.
"There has been growing concern that the current grounds for making suppression orders are unclear and that suppression is granted too readily and inconsistently."
He said the legislation would make it clear there is no presumption of extreme hardship solely on the grounds that an alleged offender was well known.
"Being famous is not a good enough reason to be granted name suppression.
"To ensure public confidence in the justice system is maintained there must be one set of rules for everyone.
"However, the presumption of open justice must be balanced against the right of a defendant to a fair trial, and we must protect victims where the publication of a defendant's name would also lead to a victim's identification."
Mr Power said the proposals included new rules to further protect those in the criminal justice system through no fault of their own, particularly children.
"Until now, child victims have not been protected by automatic name suppression, while child witnesses and victims of specified sexual offences have.
"To address this, child victims will also receive automatic name suppression, while automatic suppression for child witnesses will be increased from 17 to 18 years of age.
"This recognises that children have a special vulnerability that should be protected by law."

- NZPA AND NZHERALD STAFF