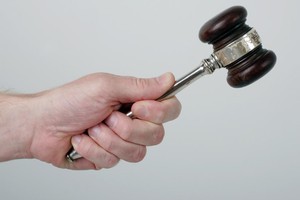 Complaints about the conduct of judges rose 60 per cent in the past 12 months, including a six-fold increase in complaints about those who sit in the country's highest court.
But only four of the total number of 223 complaints were referred to the relevant Heads of Branch, who then decide how to proceed with the matter. The majority were dismissed.
The number of complaints received by the Office of the Judicial Conduct Commissioner, Sir David Gascoigne, has been tabled in Parliament in its annual report.
The office deals with complaints about the conduct of judges, from the Coroners Court to the Maori Land Court to the Supreme Court.
The increase in workload has become a burden on the office, which wants more resources in future.
"The workload of the commissioner continues to increase. In each of the past three years the number of new complaints has exceeded the number for the previous year," the report says.
"The present resources - especially people, but also premises and equipment - are not adequate for the task in hand. This is a serious issue of increasing concern. It needs to be addressed, effectively, in the coming year." In the year to July 2010, 223 complaints were received, up 60 per cent from 139 complaints the previous year.
Twenty-five of these were directed at the Supreme Court, up from only four the previous year.
The commissioner's office dismissed 125 of last year's complaints, the main reason being because the complaint questioned the court's decision, which does not concern the office; an appeal or application for judicial review is the proper avenue to challenge a court ruling.
Other grounds for dismissal were that the complaint was frivolous, trivial, or vexatious or not in good faith.
Reasons for complaints included rudeness, unfairness, inappropriate remarks, failure to listen, prejudice, and conflicts of interest.
Sixty-three complaints were still being looked at. The annual report noted that most of the judges had been helpful with investigating complaints.
"With only isolated exceptions, judges against whom complaints have been made have responded in a constructive and helpful manner."
It said the reasons for the increase included more awareness about the office, and that some complaints referred to several judges; each judge in one complaint is counted as a separate complaint.
Three complaints related to Supreme Court judge Bill Wilson, whose alleged misconduct centres on what he disclosed about his business relationship with Alan Galbraith before the QC appeared before the judge in a case in 2007.
The office of the commissioner recommended a judicial conduct panel to investigate, but Justice Wilson successfully challenged this in the High Court.
Although the court ordered the panel appointment to be set aside, it was because of an error of law and it directed the commissioner to reconsider the complaints, and decide again if a panel should be formed.
The commissioner must first identify why the panel should be formed and give reasons for his recommendation.
HOW THEY TALLY UP
Number of complaints received for year ending July 30 (number of complaints referred to Head of Bench for further action)
*2009-10223 (4)
*2008-09139 (4)
*2007-08101 (2)
*2006-0792 (0)
*2005-06106 (6)
Breakdown of complaints for 2009-10
*Supreme Court 25
*Court of Appeal 23
*High Court 72
*District Court 62
*Family Court 29
*Youth Court and Courts Martial Appeal Court 0