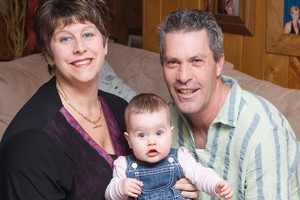 Alison and Paul Hopkirk admit they are among the lucky ones.
They have had their share of heartache but managed to have their first child this year without fertility treatment despite their ages.
Mrs Hopkirk is aged 39 and her husband 46. They had their first child, Chelsea, at the beginning of this year after two "devastating" miscarriages.
And there is more joy on the way as Mrs Hopkirk is already pregnant with the couple's second child.
But they admit there are downsides to having children later.
"Both of our parents are in their 70s; it's the only downside to leaving it later," said Mrs Hopkirk.
"The grandparents can't enjoy them as much because they're not as mobile as they used to be."
Mr Hopkirk's brother had children early, and he said it was a shame that Chelsea would not grow up with her cousins.
Chelsea is now 8 months old and the baby is due in April. They consider themselves lucky after conceiving both children naturally.
Engaged within eight weeks of meeting, they decided to start trying for a baby straight away because of their age.
"We did think we would struggle to get pregnant. Having seen it first hand with friends, IVF puts a huge strain on anyone's relationship," Mrs Hopkirk said.
"They spend thousands of dollars trying to get pregnant and then there's the anguish with failed attempts."
The couple conceived on their honeymoon, when Alison was 37, but found at their 12-week scan that she had miscarried. After another miscarriage, Chelsea arrived and Alison said it was an "indescribable feeling" to finally hold their daughter.
Mr Hopkirk said he put off a family while he focused on his career but felt they are now better financially set up to provide for children.