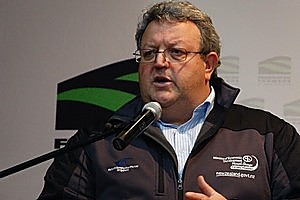 Earthquake Recovery Minister Gerry Brownlee. Photo / Sarah Ivey
A range of measures has been announced today by the Government to help Cantabrians rebuild their homes after the September 4 earthquake.
The Earthquake Commission (EQC) will help those with mortgaged houses with damage over $100,000.
While waiting for the repair bills to come in, customers can apply the EQC money against their mortgage or place it in a deposit account.
If customers put their EQC money into a deposit account, the account will then be controlled by the bank to make sure it is spent on rebuilding.
Earthquake Recovery Minister Gerry Brownlee said the claims were for the most seriously damaged houses that would take some time to repair.
For houses with damage assessed between $10,000 and $100,000, the EQC will put in place a company for the management of repairs. Claimants will be able to organise their own repairs if they choose to.
Many houses in Canterbury suffered only chimney damage in the magnitude 7.1 quake and a programme is now in place to help residents replace their log burners or open fires with new heaters.
The EQC has so far referred 17,000 claims to the Energy Efficiency and Conservation Authority (EECA) and about 7500 of these relate to houses where there is chimney damage but practically no other damage to the house.
The EECA was looking to complete work on these houses first while the technical requirements for repairing houses with greater damage were developed, Mr Brownlee said.
A range of clean-heating devices are being approved for the scheme, though homeowners can choose to replace their old chimney if they wanted to.
The final member of the seven-member Canterbury Earthquake Recovery Commission has also been appointed today.
Arihia Bennett MNZM will be appointed to the commission which will meet this month for the first time. Ms Bennett has extensive experience in social work and the business sector and lives in Kaiapoi.
The remaining commissioners will be the mayors of Christchurch City and the Selwyn and Waimakariri Districts elected at the October 9 local body elections.
- NZPA