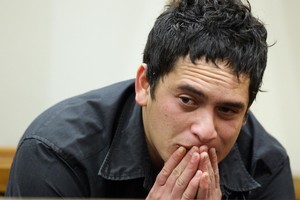 A prison sentence of less than three years for the man convicted of killing Bay of Plenty school principal Hawea Vercoe is "manifestly inadequate", Solicitor General David Collins says.
Mr Vercoe, 36, an Environment Bay of Plenty regional councillor and principal of Te Kura Kaupapa Maori o Te Rotoiti, died after being attacked by Isaiah Johnson Richard Tai outside a Whakatane bar on November 22 last year.
Tai, a 21-year-old orchard worker, pleaded guilty to Mr Vercoe's manslaughter and was in June sentenced at the High Court in Rotorua to two years and 10 months in prison.
The Crown is appealing the sentence, saying it was not enough.
At the Court of Appeal in Wellington today, Dr Collins said Tai punched Mr Vercoe, causing him to fall and hit his head. Then, as Mr Vercoe lay unconscious on the ground, Tai kicked him in the head.
Dr Collins described the attack as intentional, unprovoked and gratuitous, saying Tai showed no remorse toward the man he had rendered defenceless.
In sentencing Tai, Justice Judith Potter failed to account for the seriousness of the offending, he said.
"The sentencing judge erred because she failed to give sufficient weight to culpability and harm."
Dr Collins said trial crown prosecutor Greg Hollister-Jones made a mistake in seeking a starting point of five to six years, where seven to nine years was more appropriate.
Defence lawyer Paul Mabey told the court he had "real concerns" about Dr Collins' approach to the case.
Justice Potter was not misled by Mr Hollister-Jones' suggested starting point or by other cases used as sentencing guidelines, he said.
"His (Dr Collins') position that he (Mr Hollister-Jones) got it wrong is untenable. There's no justification to deviate from what Hollister-Jones wanted."
Nearly a dozen of Mr Vercoe's friends and family attended the appeal, with is mother and aunt filing submissions to the court.
Mr Mabey said the submissions were "irrelevant" and breached the Victims' Rights Act.
"Their victim impact statements are already before the court. The family have no standing here," he said.
Justices Terence Arnold, Robert Chambers and Rhys Harrison said they would look at the statements and consider whether the court had jurisdiction to take them into account.
Outside the court, Mr Vercoe's sister said she was pleased the Crown decided to appeal.
The justices reserved their decision.
- NZPA