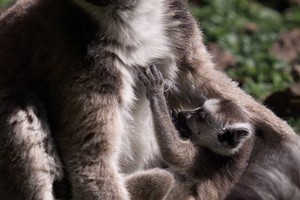 Twin six-week-old ring-tailed lemurs are on display at Hamilton Zoo, the first to be born there since 2002.
The twins, born on August 20, were becoming more confident and were beginning to venture away from their parents, Rachel and Bruce, zoo director Stephen Standley said.
Revelations that protection of forests and native fauna in Madagascar had deteriorated over recent years made the success of captive breeding populations all the more important, he said.
The twins, whose genders are still to be determined and who are yet to be named, are on display along with the rest of Hamilton's ring-tailed lemur colony.
- NZPA