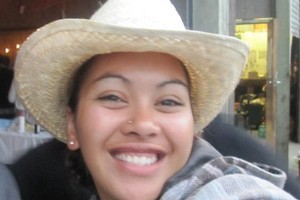 The man accused of driving away from police, crashing his car and killing two friends will spend his 21st birthday behind bars.
Aaron Tony Tulafono faces two manslaughter charges after the crash in Onehunga on Friday last week.
Yesterday, he appeared in the Auckland District Court, where five more charges were laid, including failing to stop for police, dangerous driving causing injuries and failing to stop to check if anyone was injured.
He is accused of speeding away from police after they were called to the Queenstown Rd overbridge in Onehunga when a person was reported shining a laser beam at traffic on the motorway below.
Police allege Tulafono's car crashed into a pole minutes later, killing Jaycherre Penelope Makakea and Joseph Jack Tawhai - both 20.
Two other passengers were hurt in the crash and taken to hospital.
Yesterday, Tulafono, who turns 21 tomorrow, stood in the dock flanked by two police officers.
His lawyer, Marie Dyhrberg, said he was prepared to live by "extremely stringent" bail conditions, including a 24-hour curfew.
"He will be with good people. He will obey them, and the very thought of getting behind the wheel is the very last thing he would think of doing at this stage," she said.
Sergeant Paul Housley said the police opposed bail. He said that while Tulafono's trial was a long way off, he would be facing a "lengthy term in prison" if found guilty.
"He left the scene with no regard for anyone else in the vehicle who was either injured or dying," Mr Housley said.
Judge David Ongley said the charges were serious and "from what is known at present, it appears the evidence is extremely strong".
He said that while family members would do their utmost to look after Tulafono, the 20-year-old had issues with acting responsibly and facing up to the consequences of his actions.