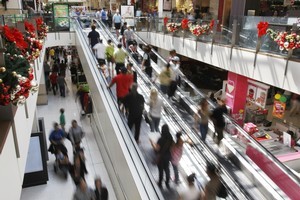 The fight to build New Zealand's biggest mall is not over, according to the head of the country's largest shopping centre chain.
Justin Lynch, director of Westfield in New Zealand, was responding to Auckland City Council's move on Thursday night to defer dealing with the expansion of St Lukes.
He emphasised that the council had not rejected Westfield's plans and the project was still going through approval phases.
"Auckland City Council are still engaged in the plan change process," he said of controversial moves to grow the mall from 4.5ha to 9.2ha.
Mr Lynch said opponents had every opportunity to air their views about the centre months ago.
"The proposed plan change was extensively publicly notified in April this year, culminating in a three-week public hearing in June where evidence was heard from all concerned, including local residents, before three council-selected independent commissioners," he said.
Mr Lynch also emphasised the positive outcome of the planning process so far, highlighting the fact that independent planning commissioners had recommended the council back the expansion.
"The commissioners have furnished to council a recommendation that supports Westfield's rezoning."
St Lukes Community Association this week protested about the expansion, saying 1920s bungalows would face 10m-high mall facades.
City councillors Glenda Fryer, Cathy Casey and Graeme Easte accused the council of copping out over the mall.
"This Citizens & Ratepayers council does not want a public backlash in the Albert-Eden-Roskill ward two weeks out from an election and has instead taken the unprecedented action of calling for officers to report back to the Auckland City Council before October 31," they said.
Dr Casey said the overdevelopment of the site and the impact on the quiet residential neighbourhood were ignored by the commissioners.
"The transport linkages are inadequate as the Morningside train station is 800 metres away and bus timetables are not good.
"Stormwater systems cannot cope now and a doubling of the size of the shopping centre will only exacerbate the problems."