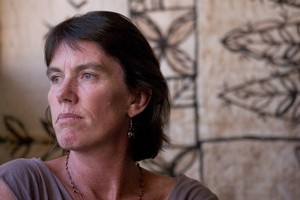 Greenpeace and the police are at odds over when police were notified that a suspicious package found during a protest in Auckland yesterday morning was a speaker system.
Police say charges against some Greenpeace protesters are likely after the "bomb scare" resulted in employees evacuating Fonterra's headquarters about 8.15am.
The evacuation of about 850 people from various businesses followed the discovery of an unattended package which was chained to a handrail inside a lift by Greenpeace protesters.
The protest was against Fonterra's alleged purchase of palm kernel animal feed.
Police say they were not told about the contents of the package until after the building was evacuated, but Greenpeace says they were.
Auckland City acting area commander Inspector Mike McIlraith said that the protesters were irresponsible in installing the package - which was a speaker system.
He said it was placed in the building as the protesters erected a large wooden barricade which blocked the entrance.
Mr McIlraith said it was not until after the building was evacuated that a man who said he was from Greenpeace told police the package contained a speaker system.
"Because of the nature of the box, police continued to treat it as a potential threat to safety and it was not until an hour later that it was determined to be non-threatening."
Mr McIlraith said "significant" numbers of police attended the incident.
"Police who attended the incident today are concerned that the behaviour of the protesters was irresponsible and unnecessarily consumed a lot of emergency services resources," he said.
"Police inquiries are continuing and it is likely charges will be laid."
Greenpeace executive director Bunny McDiarmid said police had been told what was in the box before the evacuation.
"They knew it was speakers, they were simply following procedure. The speakers were telling the story of the rain forest destruction in Indonesia.
"We have had 30 years of non-violent direct action in New Zealand, we're the last organisation who would place a bomb - we have the utmost respect for the workers and the police."
Staff were back in the building by 9.30am.
Greenpeace called on Fonterra and the Government to end the importation of palm kernel grown on areas of destroyed rainforest which it said was driving climate change and endangering several species, including the orangutan.
"As the palm industry opens up new frontiers across Indonesia, companies like Fonterra, which is expected to spend $230 million this year buying up a quarter of the world's traded palm kernel, are helping to fuel this destruction," said Greenpeace communications manager Suzette Jackson.
Fonterra did not wish to comment on the incident.
- NZPA