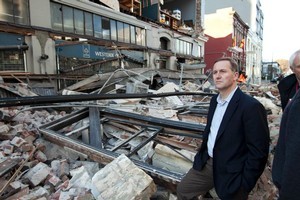 The Canterbury earthquake will be the most costly natural disaster New Zealand has ever faced, Prime Minister John Key said today as the Government announced new measures to deal with rebuilding shattered buildings and ruined homes.
The Treasury has put the overall cost at about $4 billion but the Government says that is a very early estimate and clearly expects it to rise.
FAST FACTS
*49024 claims have been lodged with the Earthquake Commission. This is expected to double.
*70 per cent of the claims are for $10,000 - $90,000
*Around 2000 claims are for more than $100,000
*12,000 claims are for contents damage only
"We are moving from the response phase to the recovery and rebuilding phase and we don't want work being slowed or stopped by needless red tape and filling out paperwork," Mr Key said at his post-cabinet press conference.
"Legislation like the Building Act, the Local Government Act and the Resource Management Act aren't designed for the special circumstances Canterbury faces."
To deal with that Parliament will tomorrow pass a bill under urgency allowing ministers to make special orders to fast track the recovery.
The orders will authorise amendments, suspension or exemptions from existing legislation and will stay in force until April 2012.
Gerry Brownlee, the cabinet minister in charge of the reconstruction, said it would also create a Canterbury Earthquake Recovery Commission including the mayors of the three affected districts, three government appointees and an independent chair.
The membership will be announced later this week and the commission will advise ministers on which orders to make, prioritise resources and funding allocations and provide a point of contact between central and local government.
"The over-riding aim of the commission is to make decisions and make sure rebuilding is carried out as quickly as possible," Mr Key said.
He also announced a special cabinet committee to oversee and co-ordinate the Government's response, chaired by Mr Brownlee.
Its members will be Mr Key and 11 other ministers whose portfolio responsibilities cover Canterbury's circumstances.
Labour leader Phil Goff said his party would support the emergency legislation, although it would want to make sure it was carefully monitored.
Mr Key said reconstruction was not a short-term proposition.
"It will take many months and cost a lot of money," he said.
"Not all of it will be on the Government's books but a substantial amount will.
"What is clear is that in financial terms this will turn out to be the most costly natural disaster New Zealand has ever experienced."
Other updates given by Mr Key today included:
* Most public services are now normal or near-normal, but there are still some issues with sewage;
* Welfare centres are still operating but the need for them is diminishing;
* Most schools re-opened today;
* At noon on Friday the Earthquake Commission had received 49,024 claims and expected the total would be more than 100,000. Many of them were for minor damage;
* Nearly 500 employers had called about the $350-a-week wage subsidy for businesses which can't trade because of earthquake damage and there had been 292 written applications covering 1585 employees.
In a separate development, the Treasury said that in a worst-case scenario the earthquake could knock as much as 0.8 percent off gross domestic product in the September quarter but that would be more than offset by recovery and repair work over the following three quarters.
- NZPA