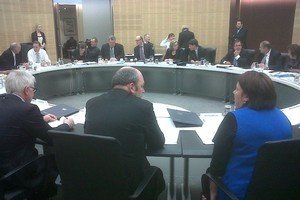 Cabinet will today meet to get an early overview of the damage caused by the Canterbury earthquake, and Prime Minister John Key says the bill outside private insurance and Earthquake Commission funding will be large.
Parts of central Christchurch were being reopened today, but weary residents face more disruption as schools, public buildings and many businesses remain closed.
Christchurch City Council has extended the state of emergency until midday Wednesday.
Aftershocks are expected to be felt for several weeks and GNS Science said Canterbury had been hit by eight tremors this morning, ranging between 3.5 and 4.8 on the Richter scale.
Mr Key surveyed damage caused by the 7.1 magnitude quake on Saturday afternoon and said it was an eerie feeling walking around Christchurch and observing families as they took in the scale of the disaster.
"Also you could see they were feeling quite stressed from the night before and a little fearful of the aftershocks that they knew were coming," he told TVNZ's Breakfast programme.
"I know lots of families slept in the middle of the lounge on the Saturday night wanting to be together."
He said Cabinet would today get an update on all the different issues being presented. "And there are some practical micro things happening, for instance, the Ministry of Social Development are contacting all their elderly clients to make sure that people are okay. ACC are contacting those with serious injuries..."
He said there was plenty of damage to infrastructure such as roading and wastewater, and the burden of repairing it would need to be spread.
"It was previously paid for by the ratepayers of the Canterbury region, and quite frankly the Government is going to have to step up and I think wear a majority of that cost, simply because if we don't do that the people of Canterbury have to pay, because they need that infrastructure."
Mr Key said a lot of the cost of damage to buildings would be met by the Earthquake Commission - up to $100,000 per building and $20,000 for contents - and private insurance.
However, there were cases where some had heavy damage to their homes yet didn't have private insurance.
Such situations presented a difficult issue and would be part of the Cabinet's discussions today, Mr Key said.
He said from what he had seen, Civil Defence had responded well to the crisis.
"By the time I got to Christchurch it was a very slick operation."
Late last night, 4164 householders had already lodged claims with the Earthquake Commission, and the total is predicted to rise to at least 100,000.
Civil Defence officials are urging visitors to stay away from the central city for at least a week, unless absolutely necessary, as the city tries to come to terms with its shattered infrastructure.
Authorities say some parts of the Christchurch central business district could be off-limits for weeks until damaged buildings are demolished or declared safe.
Christchurch City Council staff are evaluating damage to buildings and colour-coding them - green for sound, red for dangerous, and yellow to indicate structural problems.
Business owners in the central city will be allowed to check their stores today but will not be allowed to open for business.
Police today said anyone wanting access to the CBD could enter through just two of the checkpoints set up after the earthquake.
One is on the corner of St Asaph and Colombo Streets and the other on the corner of Colombo and Armagh Streets.
Schools and early childhood centres in Christchurch City and Selwyn and Waimakariri Districts have been told to stay closed until at least Wednesday following concerns from the Chief Medical Officer of Health.
All non-essential procedures at Christchurch Hospital have been cancelled, as have jury trials due to start today.
KiwiRail this morning said that all rail services in the Christchurch area were likely to be restored by Tuesday.
It said the Main South Line south from Christchurch had already reopened with speed restrictions in place. The Midland Line west of Otira is open and the line between Otira and Christchurch expected to reopen this afternoon.
The Main North Line was expected to reopen tomorrow.
* 500+ Buildings damaged
* 90+ CBD buildings damaged
* Estimated cost of damage: $2 billion
* Magnitude of Saturday's quake: 7.1
* 58 Aftershocks
* 245 Residents housed in welfare centres
* 15 per cent of Christchurch homes still without water
* 300,000 litres of water transported to Christchurch by rail yesterday
* Distance of epicentre from Christchurch central: 40km
- NZ HERALD STAFF, NZPA