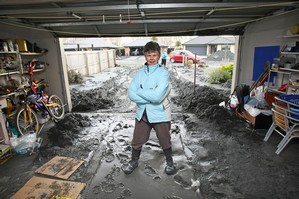 Nature was wreaking more havoc on shattered Cantabrians early today as savage winds battered a province only just beginning to pick itself up after Saturday's devastating earthquake.
And with costs from the magnitude 7.1 jolt put at $2 billion, the Government said last night that it would probably have to break its own spending rules to help.
Heavy rain and gusts of up to 140 km/h were expected to thump Canterbury until 6am today. "We're getting fairly hammered now," Fire Service shift manager Jan Wills said. "We're actually busier tonight than we were after the earthquake ... It's mainly powerlines down and small fires."
Last night, the old Waimakariri River bridge on Main North Rd was closed because of rising water.
The possibility that swollen rivers will burst quake-damaged floodbanks mean some residents now face the threat of evacuation.
The region is already facing a quake bill so large that the Government will give local councils hundred of millions of dollars to help meet the shortfall.
Prime Minister John Key said yesterday that he expected the Government would have to breach its self-imposed Budget limit on extra spending, set at $1.1 billion.
Mr Key also noted the Government was likely to face a dilemma over what to do about people with damaged homes who did not have house insurance and therefore did not qualify for Earthquake Commission cover.
The Cabinet will today consider a report from officials on the best estimate of the cost of Saturday morning's quake - put at around $2 billion by the Treasury - and the "pathway to recovery" for the Canterbury region.
Officials say it will be some time before the final amount is known. Tens of millions of dollars worth of damage has been done to the port at Lyttelton alone.
Late last night, 4164 householders had already lodged claims with the Earthquake Commission, and the total is predicted to rise to at least 100,000.
Parts of central Christchurch were being reopened, but weary residents face more disruption as schools, public buildings and many businesses remain closed.
Late yesterday, 60,000 people were still without water supplies and 10,000 were without power. About 100 water mains were broken, and only a quarter of them had been repaired.
Schools and early childhood centres in Christchurch City and Selwyn and Waimakariri Districts have been told to stay closed until at least Wednesday following concerns from the Chief Medical Officer of Health.
All non-essential procedures at Christchurch Hospital have been cancelled, as have jury trials due to start today.
Much of the hard-hit central city remains cordoned off, but engineers have made progress inspecting about 500 damaged buildings.
Civil Defence officials are urging visitors to stay away for at least a week, unless absolutely necessary, as the city tries to come to terms with its shattered infrastructure.
One Kaiapoi resident said a constant flow of sightseers was distressing residents, and urged people to stay away.
Most public buildings and schools remain off limits for at least the next two days, under the Civil Defence Act. A curfew is in place in Christchurch from 7pm to 7am, and police said the central city was still dangerous.
Aftershocks from the quake are expected to be felt for several weeks.
The weather seems likely to add to the misery. The MetService predicted winds of up to 130km/h would hit many parts of Canterbury. Those winds are expected to be replaced later today by a cold southerly and rain.
The rain may well force further evacuations, especially of residents near the Waimakariri River, where stopbanks were badly damaged by the quake.
Civil Defence Minister John Carter said safety was the most important factor for emergency staff, who were contacting elderly people to ensure they were being looked after.
"We are aware that there could be significant rain up in the Alps and that the [Waimakariri] River may swell over the next couple of days."
Mr Carter said Civil Defence was working to rebuild the stopbanks and set up an evacuation plan should it be needed.
If people were evacuated, they would probably go to welfare centres set up around the region to help hundreds whose homes are too damaged to stay in.
About 250 people have spent the past two nights at makeshift Red Cross centres at Linwood College, Burnside High School and Addington Raceway.
The Salvation Army has fed about 1000 people since Saturday.
Today, work will continue around the region to restore essential services and assess damage caused by the quake, which has made headlines around the world.
The University of Canterbury, which suffered some structural damage and chemical spills, will be closed until at least next week.
Christchurch City Council staff are evaluating damage to buildings and colour-coding them - green for sound, red for dangerous, and yellow to indicate structural problems.
Business owners will be allowed to check their stores but will not be allowed to open for business.
Yesterday, panes of glass were still falling from damaged buildings and there were continuing concerns about falling debris.
Authorities say some parts of the Christchurch central business district could be off-limits for weeks until damaged buildings are demolished or declared safe.
Government ministers whose portfolios cover quake-related matters will travel to Christchurch tomorrow to talk to local councils about their immediate and longer-term needs.
The Prime Minister doubted local councils would be able to meet all the repair costs and said the Government would probably have to make a "significant contribution".
The Government will face its own bills for damage to roads and schools.
KiwiRail also faces a repair bill for buckled railway lines.
The bulk of the overall cost of damage to homes will be comfortably met by the Earthquake Commission, which has built up reserves in government stock and equities of around $6 billion.
The national disaster fund - which is designed to meet the cost of major catastrophes - is complemented by cover of another $2.5 billion in reinsurance.
This is a means by which the commission spreads the risk of national disaster by taking out insurance, usually with overseas companies which specialise in such cover.
Mr Key said there was no assessment of how the $2 billion estimate broke down in terms of private insurers, the Earthquake Commission and local and central government.
But it was possible the estimate could go higher as it would take time for people to discover damage around their properties.
The Earthquake Commission was still putting the overall cost in the hundreds of millions.
The Insurance Council was reluctant to give an estimate, saying a complete picture of the damage would not emerge for several days.
Mr Key said the Government faced a difficult problem with uninsured home owners who had suffered damage. "Do you write out a cheque for everybody and send exactly the wrong message in terms of your personal responsibility for self-insurance.
"On the other side of the coin, clearly some people are not going to be in a position to repair their home ... We are going to have to negotiate that difficulty."
Social Development Minister Paula Bennett said more than 1000 people had called the Government's earthquake helpline, which offers support on income, housing, health, cleanup and community assistance issues.
One call came from a frighten elderly woman who lived on her own.
"Staff went and got her so she could be cared for at the local Civil Defence welfare centre," said Ms Bennett.
Help is flooding in from around the country, including 2000 tarpaulins and 2400 blankets from Auckland.
Labour leader Phil Goff, who visited Canterbury yesterday, said he was struck by how extensive the damage was.
* 500+ Buildings damaged
* 90+ CBD buildings damaged
* Estimated cost of damage: $2 billion
* Magnitude of Saturday's quake: 7.1
* 58 Aftershocks
* 245 Residents housed in welfare centres
* 15 per cent of Christchurch homes still without water
* 300,000 litres of water transported to Christchurch by rail yesterday
* Distance of epicentre from Christchurch central: 40km
- additional reporting, NZPA