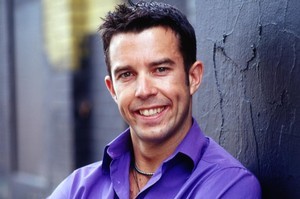 Tony Veitch appears to be in line for a return as a full-time radio host, more than two years after a domestic incident which left him shame-faced and unemployed.
The Radio Network management is known to be keen to use Veitch more on Radio Sport, from which one of its regular hosts resigned this week.
But managers are waiting on the results of the latest radio survey, due in October, before deciding where his broadcasting talents should be best used.
He has been hosting the hour-long Sport Re-Loaded highlights show on week nights since being brought back on contract in January.
Veitch, also a former TVNZ sports newsreader, was suspended then resigned as the Radio Sport breakfast host in July 2008 after details of a domestic dispute were made public.
He was sentenced in the Auckland District Court to 300 hours' community service and fined $10,000 after pleading guilty to reckless disregard causing injury.
He admitted kicking former partner Kristin Dunne-Powell in the back, fracturing her spine.
More than two years on from the incident, a number of options are opening at Radio Sport.
Matt Gunn, who hosts the afternoon drive show, resigned from his position last week, and Veitch's old morning show - now hosted by Mark Richardson and D'Arcy Waldegrave - could also be in line for a shake-up.
Richardson, a former Black Cap who also co-hosts Prime Television's The Crowd Goes Wild every evening, has a full slate of work, including cricket commentating, and is understood to be reconsidering his future.
If the survey results for the show are not positive, Veitch could make a comeback, though Gunn's drive show position looks more likely.
General manager of talk programming Dallas Gurney said the station was not in talks with Veitch at present.
"I'm not surprised [you're asking about it]. Since Tony came back there has been a lot of speculation about his future because of the talent he has, but we are not talking to Tony at this stage about anything," said Gurney. "We are committed to our line-up until the end of the year."
He confirmed Gunn's resignation.
"Any decisions [for the future] with Tony will need to be made in consultation with Tony," he said. "Tony is thrilled to be doing what he is doing, and he's just very happy to be working."
Gurney would not be drawn on the six-monthly radio survey, which, when the results are completed, helps stations decide which shows and hosts are working and which are not.
Veitch did not return Herald on Sunday calls.
The latest survey results for Radio Sport showed it increased by 4000 listeners in Auckland for all people aged 10 and above, between the second half of last year and the first half of this year.
The station also increased its Auckland audience share from 2.3 to 2.8 per cent in the same time frame.