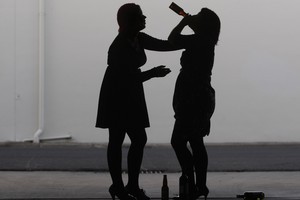 Raising the alcohol purchase age from 18 to 20 will be a conscience vote for the National Party, but an addiction specialist says either way, it will not change New Zealand's drinking culture.
Justice Minister Simon Power said the legislation was due to have its first reading before Christmas.
A report from the Law Commission released in April made 153 recommendations on reducing the harm caused by alcohol, including tax increases and a wide-reaching tightening of rules around the sale of alcohol.
It also included raising the drinking age and the limit of blood alcohol for drivers.
But professor Doug Sellman of the National Addictions Centre today said Government plans to raise the off-license purchase age to 20 are not focusing on the underlying problems of binge-drinking.

"There is a key strategy on the part of the Government to label New Zealand's drinking culture as a youth problem."

Professor Sellman said 92 per cent of "problem drinkers" were over the age of 20 and this is where the Government needs to put its attention.
Keep it 18, a group representing young people and opposed to raising the drinking age, said National's decision to move to a conscience vote would make things easier for the group.
Spokeswoman Jenna Raeburn said lobbying MPs individually would help Keep it 18's campaign.
The group's Facebook page currently has 6995 fans and Ms Raeburn said most of those people are New Zealanders.
She said members have been lobbying MPs and it is "going pretty well".
"Most MPs we have been talking to are really open to talking to young people," Ms Raeburn said.
Asked which MPs supported keeping the drinking age at 18, Ms Raeburn said she could not say.
Keep it 18 is made up of the youth wings of the National, Labour, Act and Green parties.
- NZ Herald staff