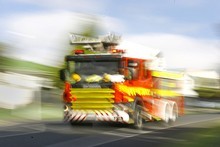 The fire service has been called to Auckland International Airport after an 'unusual smell' was noticed in the duty free area of the departure lounge.
Airport spokesman Richard Llewellyn said there was no need to evacuate travellers and by the time the fire crew arrived, the smell seemed to have gone.
"They're currently looking around to see where it might have been coming from but believe it may be related to the construction going on at the moment," said Mr Llewellyn.
- NZ Herald staff