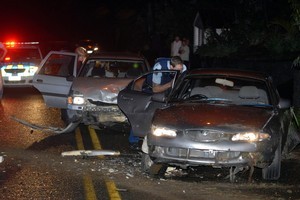 Good samaritans were threatened by a golf club-wielding woman when they tried to help her friend after they crashed their car in West Auckland last night.
Chaos erupted in Titirangi Rd about 10.30pm when a Mazda carrying six people crashed into a parked car, careered into a bank on the other side of the road, causing it to spin and smash into another vehicle carrying a woman and her 4-year-old son.
People from houses in the street went to help and found a youth from the Mazda lying on the footpath.
As they went to help, two young women got out of the car and started abusing them.
One was swinging a golf club, forcing residents to back away.
The woman in the car struck by the Mazda, Amy Dietsch, and her son Kole were shaken but not hurt. "I'm too shaken up to speak. It was a horrible end to a nice night," Dietsch said.
Police investigating the drama told the Herald on Sunday the occupants of the crashed vehicle would be questioned over a number of car break-ins in the Titirangi area.
Three people, including the woman with the golf club, were taken to Henderson police station late last night.
One of the good Samaritans, Logan Johnston, said he heard a bang and a skid and ran out of the house he was visiting to find his car had been struck.
He was angry as the car had only just been painted and he had no insurance.
"There was a young girl yelling that she was going to smash us, and another [woman] swinging a golf club," he said.
Johnston's friend went to Dietsch's vehicle to stand guard in case the woman with the golf club attacked it.
He said car break-ins were a constant issue in the area.
Resident Adam Rennner came out and saw the youth lying on the ground. "We thought he might have been injured but I think he was just drunk. We went over to try to help and the girl came out and started yelling at us to go away. She was swinging the golf club.
"We didn't know what the hell was going on."
A woman who declined to be named said it was "horrible".
"We went out there to help and to get threatened like that ... you have to wonder what is wrong with them.
"Somebody could have been hurt but they didn't care," she said.
Six police cars swooped on the area as multiple calls came in from residents about the incident.