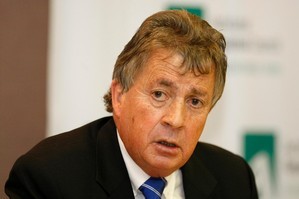 Auckland Regional Council chairman Mike Lee has had to pay back more than $400 after it was found he double-dipped on hotel and lunch expenses.
The double-dipping, blamed on a staff error, was discovered only after the Herald on Sunday requested Lee's council expenses and credit card spending.
It revealed that Lee paid a $358.70 bill from the Greymouth Kingsgate hotel in February 2008, and $65.50 for lunch at Ponsonby GPK in September last year, using his ratepayer-funded credit card.
He also signed off an expense form for reimbursement for the Kingsgate and GPK bills. The money was paid into his bank account.
Lee told the Herald on Sunday it was an administration error made by a council staff member.
He has paid the money back to the council in the past two weeks.
"I do not actually compile my expense claims. Receipts are collected by a staff member and usually a claim sheet is put under my nose to sign.
Clearly a couple of errors were identified. Spare receipts on my desk are scooped up every month and included on a standard claim," he said.
"It creates two systems of accounting and therefore is more open to human muddle."
The Greymouth bill was for a two-night stay during the Local Government New Zealand regional affairs committee meeting.
The GPK lunch was with the former ARC chief executive Jo Brosnahan.
ARC chief executive Peter Winder said the mistake was made largely by Lee's personal assistant who had filed the receipts in the wrong place.
He confirmed Lee paid back the money as soon as he was informed.
Winder said he had implemented a new system to ensure it did not happen again.
Meanwhile, expense figures show Lee has claimed $6079 in mileage allowance for driving his private car on council business since November 2007 including six trips to Mt Smart Stadium to watch Warriors league matches.
"I have had to host dedicated Warriors fans like the Governor-General and the former Prime Minister and sundry mayors and consular officials. It goes with the job." he said. "I have refused the council car allotted to mayors and regional council chairs by the Remuneration Authority."
Wilder said Lee was careful with ratepayers' money.