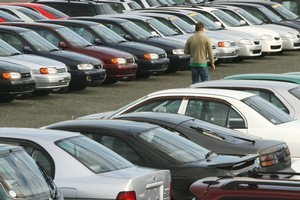 The internet has become a must use tool for people wanting to avoid being ripped off when buying cars privately.
Six websites have found a niche market for motorists checking to see if a vehicle up for sale doesn't have money owing on it, isn't stolen, or has had the odometer wound back.
And the consequences of not making checks can be disastrous.
If you buy a car that is later found to have been stolen, legally you will lose it. If you buy a car that has finance owing on it, the lender will seek the money off you if you haven't been able to get it off the person you purchased it from.
Online Vehicle Inspection Reports can cost as little as $3 for basic information on carjam.co.nz, to more detailed $30 report at motorweb.co.nz, and competition is growing between the six websites that give VIRs.
MotorWeb guarantees a $100,000 payout if a vehicle purchased on the basis of the information it provides is later repossessed.
On average each year 600,000 cars in New Zealand have finance owing on them. Thirty-eight thousand cars are sold every month, and about 21,000 cars are stolen each year.
MotorWeb managing director Chris Knight said getting a vehicle history check was just as important as having it mechanically inspected.
"Many car buyers focus on the mechanical inspection, but if you buy a car without getting a vehicle history check, you can run the risk of it being repossessed or being worth far less than you paid for it," he said.
The Herald on Sunday did VIRs through MotorWeb on 15 vehicles being sold privately. Three had money owing to finance companies. Another was imported as a damaged vehicle.
Automobile Association spokesman Simon Lambourne said getting a vehicle checked was a "no brainer".
The AA has its own VIR check service that costs $25 or $20 for members. "What the advances in technology have allowed is for organisations to provide more detailed and comprehensive reports and do it with accuracy and speed."
Doing homework helps realise dream rides
Two Aucklanders were lucky not to get stung when they took the risk of buying cars that had money still owed on them.
Former brewery worker Steve Headland wanted to treat himself to his dream car when he was made redundant after 33 years at Lion Nathan.
But when the 62-year-old found it - a 2004 Holden Clubsport on Trade Me, advertised for $24,995, he decided to have a Vehicle Inspection Report done on MotorWeb.
The vehicle had an ASB bank loan on it, but the bank wouldn't say how much was owed for privacy reasons.
"I was caught between a rock and a hard place," he said.
"It was the car I had been looking for for the past three years and it was a great price." He managed to knock the price down to $23,500.
Headland said he was confident the person he was buying the car off would honour the debt on it.
Three days after paying for the car, ASB advised him everything was okay.
West Harbour Placemakers paint department manager Marie Dowden was in a similar situation when she wanted to buy a silver 1998 Mazda Capella Sedan.
"The car was absolutely perfect," she said.
She knocked $800 off the $3500 price but, on the day she was to pay, she ran a MotorWeb check and discovered money was owed to Avanti Finance.
The person she was buying it off claimed he had bought the car outright at auction.
Desperate to buy the car, Dowden wrote a letter authorising any potential repossession agents to go to the car's seller if they came to her looking for money. She then got the seller to name and sign the letter.
Consumer NZ spokeswoman Maggie Edwards said Dowden and Headland were potentially lucky.
Edwards said buying a car that still had money owed to a finance company was the equivalent of a tenant selling their landlord's house.