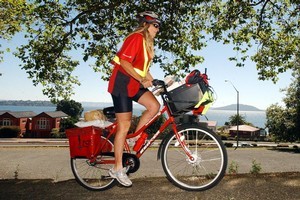 New Zealand Post has been criticised over its strict clothing policy, after a postie was given a written warning for wearing a T-shirt under his official uniform.
In a hearing before the Employment Relations Authority (ERA), Johnsonville postie Karl Oakes succeeded in getting a black mark removed from his work record over a sweatshirt and T-shirt he wore on the job. However, the ERA also found the behaviour of Mr Oakes contributed to the run-ins with New Zealand Post.
Mr Oakes had worked for New Zealand Post since December 2006, and was working at the Johnsonville branch when the issues arose last year.
The ERA decision said: "First, there was an incident with him wearing a blue-hooded sweatshirt instead of the proper uniform. He removed it when requested to do so, and he accepted that it was not part of the correct uniform.
"Second, he was caught wearing a visible blue T-shirt under his uniform and was requested to remove it. He refused to remove the shirt so that it could not be seen."
NZ Post's Wellington business delivery leader, Suzanne Cameron, claimed the shirt could still be seen "hanging out and not tucked in" after Mr Oakes had zipped up his uniform sweatshirt. Mr Oakes denied this.
On October 18 last year, Mr Oakes was issued with a written warning for misconduct, for failing to wear the correct uniform, refusing to follow a reasonable instruction and "behaving belligerently".
This led to the Postal Workers Union challenging NZ Post's uniform policy.
Its postie training and induction manual on uniforms states: "Those issued with a uniform must wear it in the correct manner at all required times. There are no exceptions from this rule on medical or other grounds."
ERA member Paul Stapp ruled: "The second sentence is clearly unreasonable and contradicts the evidence that NZ Post treats each case on a case-by-case basis if a comfort, safety and health problem arises". The policy conflicted with the provisions of the collective agreement with the union, he said.
NZ Post had indicated the reference to "no exceptions" in the policy would be reviewed.
On Mr Oakes' written warning, Mr Stapp said: "I conclude that Mr Oakes has a personal grievance of unjustified disadvantage because his employment was put at risk".