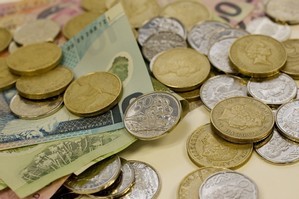 Broadcasting Minister Jonathan Coleman has asked for a breakdown of TVNZ boss Rick Ellis' $140,000-plus credit card bill.
Information released under the Official Information Act to the Sunday Star Times showed public sector bosses spent thousands of dollars on fine dining.
Solid Energy chief executive Don Elder's total expenses in the past two years were $209,395, making him the biggest spender among those whose details were released.
Mr Ellis was number two, racking up more than $32,000 of a total $140,768 credit card bill on entertainment.
A spokesman for Dr Coleman said he was expecting to see a breakdown of Mr Ellis' spending sometime next week.
TVNZ's board must sign off any of Mr Ellis' spending, he said.
He would not comment further.
Other top spenders were Unitec boss Rick Ede ($79,611), Deer Industry New Zealand's Mark O'Connor ($74,726), Mental Health Commission chair Peter McGeorge ($72,243) and GNS Sciences' Alex Malahoff ($64,078).
The release of their credit card spending comes just days after State Services Commissioner Iain Rennie released details for the heads of government departments.
Mr Rennie said while all spending was within the rules there was excessive expenditure on entertainment and dining.
Total spending across 36 departments was $856,623.
Among the biggest spenders were former New Zealand Food Safety Authority chief executive Andrew McKenzie with $66,105, followed by Crown Law chief executive David Collins, QC, with $64,210 and Ministry of Research, Science and Technology boss Helen Anderson with $52,589.
About $20,000 of Dr McKenzie's total spending was for dinner and lunch.
Government ministers have also had their credit card spending under the spotlight in recent months.
Labour MP Shane Jones was demoted when credit card records for ministers and their staff - for April 2003 until February this year - revealed he paid for porn movies on the ministerial card.
That release also showed excessive spending outside the rules by other former ministers Mita Ririnui and Chris Carter, who were also demoted while Trade Minister Tim Groser got a hard time over his minibar use.
An earlier release of credit card expenditure for ministers during last year led to Phil Heatley resigning from Cabinet after admitting he misused his credit card. He was later reinstated after an Auditor-General's inquiry found that while he spent $1402 of taxpayers' money inappropriately, he did not intentionally break the rules.
The latest release of ministerial credit card statements last month showed a reduction in inappropriate spending although there were there are still a few lavish dinners in the mix.
- NZPA