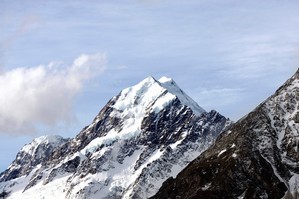 The family of Sir Edmund Hillary are delighted with a proposal to name a ridge on the country's highest peak after him, saying he would have considered it a "great honour".
The Geographic Board has narrowed a list of several public proposals for honouring the New Zealand icon down to one - to rename the South Ridge of Aoraki-Mt Cook "Hillary Ridge".
While some might think Sir Ed's enormous contribution merits the naming of a whole mountain, or mountain range, his daughter, Sarah Hillary, said her father was a modest man who was "always a little embarrassed about a big fuss".
Sir Ed, Harry Ayres, Mick Sullivan and Ruth Adams made the first ascent of the South Ridge on February 5, 1948.
"This seems to be a very good choice of locations," Sarah Hillary said, "as the climb meant a lot to my father and he would have considered it a great honour to be associated with it by name."
Her brother, Peter Hillary, was "quite delighted" by the proposal, which he believed to be by far the most appropriate use of his father's name.
Sir Ed wrote about his ascent of South Ridge in the New Zealand Alpine Journal in June 1948, describing it as an arduous climb.
"I ... found it rather a nerve-racking sensation to lie in a sleeping-bag and see the South Ridge outlined against the sky, with all its steepness and difficulties magnified by the darkness."
Geographic Board chairman Don Grant said the South Ridge suggestion emerged as the most appropriate choice.
"The board believes this is ... befitting a great New Zealand mountaineer and adventurer.
"For people to be able to clearly see this ridge makes it very much a commemorative feature that people can relate to."
The proposal will now be open for public comment for three months.
In 1953, Sir Ed and Sherpa Tenzing Norgay became the first climbers to reach the summit of Mt Everest.
Sir Ed died aged 88 in January 2008, nearly 22 years after Tenzing.
THE NAME GAME
* A 70km route starting at the Arataki Visitor Centre and running through the Waitakere Ranges and along west coast beaches to Muriwai was named the Hillary Trail.
* Last month, Middlemore Hospital opened a new $40 million ward named the Sir Edmund Hillary Block.
* The home built by Sir Ed and his first wife, Lady Louise, in 1956 is being relocated to Sir Edmund Hillary Collegiate in Otara, to be known as the Sir Edmund Hillary Leadership Centre.