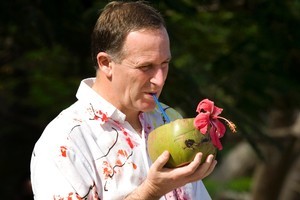 New Zealand will host the Pacific Islands Forum next year in the lead-up to the Rugby World Cup, forum leaders decided last night.
Prime Minister John Key made the offer to other forum leaders in Vanuatu in the past few days, but Rugby World Cup Minister Murray McCully has been lobbying Pacific leaders for months.
The forum will be held in Auckland in the days leading up to the cup's All Blacks versus Tonga opener.
"Forty years ago we hosted the first forum in Wellington," Mr Key said
"[The offer to host] was unanimously accepted by leaders, so it will be hosted at a time to coincide with the Rugby World Cup from September 6 to 9, and leaders will be taken to the opening game.
"I think they will be a welcome addition to the Rugby World Cup, giving it a Pacific flavour."
He thought Auckland would have no problem hosting the forum at the time when tens of thousands of tourists were expected to pour into the country.
Forum leaders last night agreed to continue suspension of Fiji, although Mr Key said Fiji was not discussed at length.
The leaders, however, at Mr Key's suggestion, agreed to soften the approach to Fiji's inclusion in the Pacific Agreement on Closer Economic Relations (Pacer-Plus). Fiji had been excluded from meetings but privately briefed afterwards.
"We've asked the Ministerial Contact Group to consider whether Fiji shouldn't be admitted to the officials' group, and the reason for that is no other countries have trade or economic sanctions against Fiji.
"There is potential to open up a free trading area in the Pacific ... but arguably one of the biggest economies of the Pacific is Fiji, and [without them] we're not really making much progress on the issue."
The MCG will discuss the issue with Fiji and report back before the next forum.
Australia, which had been opposed to further Fiji involvement in Pacer-plus, supported looking into further inclusion of Fiji, Mr Key said.
Earlier yesterday, Mr Key said New Zealand had not taken a particularly strong line against Fiji.
"There are no trade and economic sanctions. Really the sanctions are limited to travel arrangements for either members of the regime or their families, so I don't think you could argue that New Zealand's taken a hard line when it comes to sanctions."
He also said New Zealand remained committed to the $90 million over three years it had promised for climate change projects.
An example was Tonga, which was looking at solar power and wind farm projects.
"One of the challenges is making sure those projects are what we term shovel-ready, so that they are ready to go, because there is a lot of interest, but not necessarily projects that we can actually apply the funding to.
"We remain committed to the financial contribution we indicated in Copenhagen."