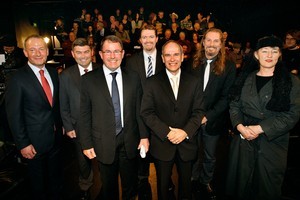 Mayoral hopefuls for Auckland's new Super City have promised everything from fewer liquor shops to a green waste curbside collection.
A total of 23 people have put their hand up to be Auckland's first Super City mayor: Aileen Austin, John Banks, Marlene Barr, Penny Bright, Len Brown, Hugh Chapman, Colin Craig, Nga Dave, Harry Fong, Shannon Gillies, Vinnie Kahui, Alan McCulloch, Steve McDonald, Willie Morton, Vanessa Neeson, Phil O'Connor, Simon Prast, Raymond Presland, Mark Ross, Annalucia Vermunt, Andrew Williams, David Willmott and Wayne Young.
Election Day is October 9 with the official count beginning at noon and preliminary results available that night.
Debate on this issue is now closed. Here is a selection of Your Views: