John Key is in Vanuatu for the 41st Pacific Islands Forum, where he will announce development initiatives in the Pacific. The Herald's Derek Cheng reports from Port Vila.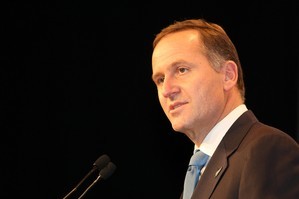 A regional processing centre in the Pacific for asylum seekers would not be in New Zealand or be propped up with New Zealand funds, Prime Minister John Key said today.
Prime Minister John Key is expecting to have a discussion today with Australian Stephen Smith, where the subject of a regional processing centre will be raised.
The subject has been a main issue on the election campaign trail in Australia, and Mr Key said he was prepared to have discussions on the matter.
But in reality, Australia is in a caretaker mode at the moment, and they're not in a position to commit to anything really. So it will be very much a hypothetical discussion ...high level but not terribly detailed."
He said last night at the leaders' dinner, Nauru President Marcus Steven had told him of Nauru's interest in re-establishing a resettlement camp in Nauru.
"He made it quite clear that refugees had been treated well there, and in fact that the camp had been run by the UNHCR. He was at pains to point out that it was run by the UN.
"We certainly know we're not interested in hosting it in New Zealand, we're not interested in increasing the number of refugees we take under the UNHCR programme, and I don't think we'd be terribly interested in incurring any great costs in a regional processing centre.
"We are agnostic about where a regional processing centre could be established, in the event one was established.
"What it would potentially involve would be if New Zealand would be prepared to take people from the centre, providing they met with New Zealand's guidelines and criteria for refugees."
Mr Key said from the last night's dinner, the general feeling was that forum leaders would not lift the suspension of Fiji from the forum.
"The leaders, from everything I've seen so far, seem very united in their view that Fiji would remain excluded from the forum until we see demonstrated evidence of a pathway to democracy."