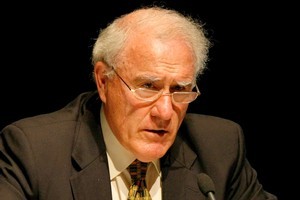 Former New Zealand Prime Minister Sir Geoffrey Palmer says heading an inquiry into the fatal Israeli raid on the Gaza-bound aid flotilla earlier this year will probably be the hardest job he has done.
"I can't think of a harder one that I've had," he said.
"I think it's the inherent complexity of it, that's the problem."
Nine pro-Palestinian activists were killed when Israeli marines stormed a Turkish ship in May as a flotilla moved to breach the blockade to supply aid to residents of Gaza. New Zealander Nicola Enchmarch was among the passengers and crew who were captured and held in Israeli custody before being deported.
Overnight United Nations chief Ban Ki-moon announced the four-member panel, to be chaired by Sir Geoffrey with outgoing Colombian President Alvaro Uribe as vice-chairman, plus one Israeli and one Turkish member.
The identities of the members from Turkey and Israel have not been given, but the panel is due to begin work on August 10 and submit a first progress report by mid-September.
Sir Geoffrey said the inquiry could take as long as six months. It would be based in New York and he could not say if visits to the Mideast would be required.
In fact he could not give any detail about procedures or substance of the inquiry; "it's so sensitive and it's necessary to have a degree of detachment here to avoid arriving at any conclusions about anything for the moment".
He would head to New York this week.
Sir Geoffrey said he felt honoured by the appointment.
"It is some sort of recognition that New Zealand can play a useful role in this sort of thing and I think that's good."
His family was "fine" with his involvement and he declined to comment on whether he may become a target.
"I don't think security matters should ever be discussed."
Israel's decision to back the panel was unexpected as it had for weeks insisted it would not co-operate with any international probe and instead launched two internal inquiries. In the end following contacts and consultations with a seven-member Israeli ministerial forum Israeli Prime Minister Benjamin Netanyahu agreed, saying his country had nothing to hide.
Sir Geoffrey said that was an achievement for Mr Ban; "diplomacy is the art of the possible and he's brought it off".
Prime Minister John Key said he was very pleased with the appointments, as New Zealand had pushed for an independent inquiry.
"Sir Geoffrey is going to add not only a lot of intellectual grunt but quite a lot of mana to the process, and we fully support what he's doing," he told reporters.
"It's a huge ask you're dealing with a very difficult situation in a very complex part of the world. But if anyone's up to the job, Sir Geoffrey is."
The appointment was a very significant recognition of a New Zealander, and demonstrated New Zealand was seen as "neutral and an honest broker" in international circles.
"But we're not going into this process, and Sir Geoffrey's not going into this process looking to make friends. He's looking to get answers to what was the situation when nine people lost their lives."
Sir Geoffrey said the Government had been supportive since Mr Ban approached him first about two months ago.
Jim McLay New Zealand's next Permanent Representative to the United Nations, kept him up-to-date.
Meanwhile, a group of New Zealand volunteers hoping to take part in a Gaza aid convoy say they are still going ahead with their plan.
Israel's decision to take part in the inquiry did not change the appalling situation in Gaza which was the reason behind the convoys, Kia Ora Gaza co-organiser Grant Morgan said.
"Things like medical supplies and building materials are still being blocked in the majority of cases and all exports are still banned from Gaza," Mr Morgan said.
The group had chosen six volunteers to take part in an international land convoy which leaves from London on September 18 with the aim of breaking Israel's blockade of Gaza, Mr Morgan said.
It was also hoped that a New Zealand volunteer would take part in a sea convoy which would leave in October, he said.
So far Kia Ora Gaza had raised about a third of their $100,000 target and was confident it would raise enough for the six volunteers.
- NZPA