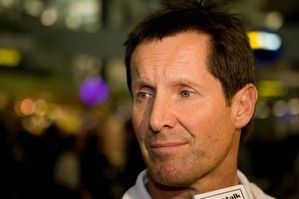 He may be at the helm of our great rugby rival, but Canterbury is welcoming back Robbie Deans as a favourite son for his first time up against the All Blacks on his old home patch.
There is even some sympathy for "Dingo" Deans, who flew in to Christchurch last night a wounded man after his Australian side was smashed 49-28 by the All Blacks.
The former Crusaders master coach will at least be in familiar surroundings as he prepares for the rematch at Christchurch's AMI Stadium this weekend.
Two years ago - after Deans missed out to Graham Henry for the All Black coaching job - the feeling in Canterbury was so strong that some rugby followers said they would support the Wallabies over the All Blacks.
"And I'm sure there are some here that are doing that," said Canterbury Rugby Union boss Hamish Riach. "Robbie's got a lot of personal support and that endures. But two years is a long time, and the love of your country doesn't die easily.
"I suppose in most people's minds, you separate out Robbie from the team he is coaching."
Former All Black player and coach, Alex "Grizz" Wyllie, said Cantabrians still held Deans in high regard, but had largely moved on from the anger when he missed out on the All Blacks job.
"There will be some people probably still would like to see him succeed (with Australia). But time's a healer."
Arriving in Canterbury last night, Deans said he was not expecting an easy ride from the public, despite his past feats.
"It is going to be interesting to see the public reaction. You can't be sure."
Although still a regular visitor to Christchurch, Deans is now used to calling Australia home.
"Four-fifths of the family live in Sydney now. It has been that way for a couple of years."
This weekend's test will be the first time Deans has led the Wallabies on his home patch. Former All Black captain Tane Norton said it would be hard to find any rugby follower in the region who did not wish Deans well.
"The people of Canterbury would never forget what Robbie's done as a player and a coach here."