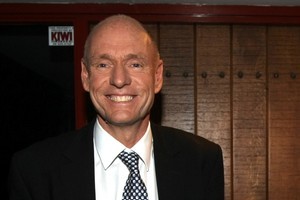 Labour's ousted MP Chris Carter says his controversial trip to China is being used to cover up concerns about Phil Goff's leadership.
Mr Goff and senior MPs have cited the trip to China and Tibet - which Mr Carter didn't tell them about - as the latest incident of rule-breaking behaviour which put the Te Atatu MP under stress.
"I see the latest attempt to deflect my message that Phil has to go involves spinning a story that my alleged concerns were raised to mask details of a recent trip to China," Mr Carter said today.
"I have no concerns over that trip and I doubt the New Zealand taxpayer would have."
Mr Carter this afternoon said the Chinese government paid for his controversial trip.
Ealier today, Mr Goff said Mr Carter had developed a "sense of entitlement" over travel and neglected his duty as an MP when he went to China without permission.
The Te Atatu MP was thrown out of caucus on a unanimous vote yesterday after an abortive attempt to undermine Mr Goff, and on August 7 the party council will almost certainly expel him.
His unauthorised absence is one of the issues which led to yesterday's meltdown and expulsion.
At a media conference in Auckland this afternoon, Mr Goff said Mr Carter's trip to China contravened Labour Party rules because the whips were not notified.
"It's normal, in fact it's a requirement, for any member of Caucus travelling overseas to notify the whips because this is working time, it's not time for people to take breaks."
Mr Goff said for two weeks Mr Carter had neglected his duty as a Labour Party MP.
He said he found out about the trip to China while Mr Carter was overseas. Labour's caucus was notified but Mr Goff said he did not have a private meeting with Mr Carter on his return.
"I think being caught out on this may have triggered it [the letter to media questioning Mr Goff's leadership] and having a high travel budget."
Asked about the mental health of Mr Carter, Mr Goff said: "I'm not a psychiatrist."
"Chris' behaviour has not been rational over this, it has been anything but rational, it's certainly been unprofessional.
"On a personal level, I'd like to see support given to him."
Mr Goff said he now doubted the sincerity of Mr Carter's June apology following revelations of his high international travel spend-up.
"I think Chris' problem was he had developed a sense of entitlement over his travel, over his right to do anything he liked, without meeting the rules.
"Well I'm sorry, he has to follow the same rules as everyone else, he has to be mindful whenever he spends taxpayers' money."
"It took a lot of convincing for him to acknowledge that publicly and now I doubt that that acknowledgement was sincere - I thought it was at the time."
Mr Carter said he didn't tell party whips, or seek permission, to go to China because no taxpayer funding was involved.
"It was offered to me about four months ago because they were having a conference on poverty alleviation...I was in China for six days and I only spent one day in Tibet," he said.
"It was in the second week of a recess and the Chinese government picked up the whole tab," he said.
"There was no cost to the New Zealand taxpayer at all."
Mr Carter said he thought that if he had spoken to anyone about the trip, there would have been "another media beat up" about it.
Senior Labour MP Trevor Mallard earlier said Mr Carter had exhibited some "pretty unusual" and "pretty irrational" behaviour lately.
The latest quarterly release yesterday of MPs' travel details was probably a trigger for his behaviour, Mr Mallard said, and he was worried about Mr Carter's behaviour.
Party president Andrew Little also suggested people were concerned about Mr Carter, who had been under a great deal of stress.
Mr Mallard said the rest of the Labour caucus was behind Mr Goff.
Mr Goff earlier told NewstalkZB stress over Mr Carter's expenditure was behind his outbreak, after he mishandled apologising to the public in June for using his ministerial credit card for items such as massages.
Ordered to apologise by Mr Goff, he led reporters on a chase through the corridors of Parliament and called a press conference the next day to say he was sorry about the way he had spent taxpayer money.
Mr Carter has said he will remain an independent MP until the next election as Te Atatu's representative. He said he would not stand in the next election.
- NZPA