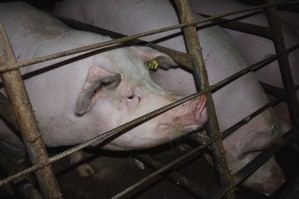 The Green Party is calling for government intervention following reports that the Pork Industry Board is trying to evade the Official Information Act (OIA) to avoid embarrassment over conditions in some piggeries.
The Dominion Post reported today the board wanted information about piggeries, gained through a nationwide audit, to be held by individual farmers so it would not be accessible through the OIA.
Green MP Sue Kedgley said today the public had the right to know what conditions were like on the farms they bought pork from.
"The Pork Industry Board is a statutory board, which means it is covered by the Official Information Act...it is acting as if it is a secret society," she said.
"It is a serious offence for a statutory board the deliberately seek to evade the Official Information Act."
Ms Kedgley said Agriculture Minister David Carter should order the board to release all the information from its audit, and she was going to raise questions in Parliament.
- NZPA