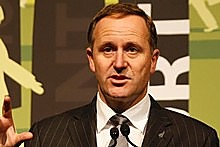 The move towards creating the Auckland Super City carries risks, Prime Minister John Key told the Local Government New Zealand conference in Auckland today.
Mr Key said the merging of eight councils to form the new Auckland Council was always going to be risky.
"It is a recognition of the size of what we are doing," he said. "I'm confident we will get there. There will always be some bits and pieces that don't go absolutely perfectly to plan on day one, but an awful amount of work and planning has gone on and I feel confident about the process," he said.
Mr Key said the agency designing the Super City had identified some risks early on, such as software implementation and co-ordination.
"It is $29 billion worth of assets and $3.2 billion worth of revenue. It is bigger than a lot of companies in New Zealand, if not most," Mr Key said.
The Super City, representing 1.4 million Aucklanders, will be the largest council in Australasia.
The Lord Mayor of Brisbane, Campbell Newman, who heads the largest current council in Australia with 1.1 million residents, was a guest speaker at the conference.
Mr Newman said his council was pitching Brisbane as Australia's New World city to break the evil axis of Sydney, Melbourne and Canberra.
He said branding of the city was important but vision, planning and buy-in of the community were critical factors.
Like Auckland, the number one problem in Brisbane was traffic congestion, which was to be tackled on three fronts, including $100 million a year being spent on cycleways, spending on buses to increase patronage from 48 million to 77 million passengers in the past six years, and major roading projects.
By Bernard Orsman @BernardOrsman

Email

Bernard