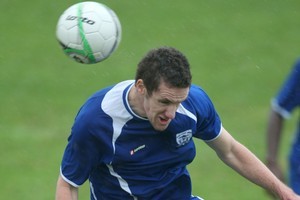 Two seasons after tasting Chatham Cup success, East Coast Bays have a second tilt at one of New Zealand's oldest sporting trophies.
One of three teams from the United Soccer 1 Federation in the last eight, Bays go into this afternoon's clash with Glenfield Rovers at Bay City Park with some confidence, despite a couple of close ties en route to the quarter-finals.
After a 1-0 home win over Brian Turner's Onehunga Sports first up and a 9-0 romp over Auckland Grammar, they rode their luck a little to beat last season's beaten finalists, 10-man Three Kings United, 2-1 away in the last round. Close games have been a big part of the East Coast Bays story.
They won the 2008 final against Dunedin Technical by the only goal after a 2-1 semifinal win at home over Nelson Suburbs. But they had beaten Waitakere City 6-0 in the quarters.
Glenfield Rovers had their best run in the same season with odd-goal results again to the fore.
They beat former Cup winners Central United 3-2 at McFetridge Park in the quarter-finals but dipped out by the same score in the semifinals in just failing to overcome the long trip south to play Dunedin Technical. This season, away from the Chatham Cup, has not been as productive for Glenfield, who are in the scrap for the Northern Division 1B championship from which only the winner will make it to the northern premier league.
They at least make today's short trip on the back of a good 4-2 win over Ellerslie last Saturday and with Graham Green, who scored a hat-trick in that win, in form.
In another all-Auckland affair tomorrow - but with cross-federation rivalry - Forrest Hill Milford square-off against Bay Olympic at Becroft Park.
Possibly the biggest under-performers in this season's regional premier league, given their squad, Forrest Hill have the opportunity to shine.
They have seen off fellow US 1 rivals Albany United and Birkenhead - both 3-1 - in their recent Cup outings and will be looking to continue in the same vein against Olympic who, as Blockhouse Bay, won the Chatham Cup in 1970 against Wellington's Western Suburbs after a replay.
Bay Olympic dispatched Waitakere City 3-1 in the last round after previous five-goal victories over Takapuna and neighbours Lynn Avon.
In Wellington former Cup-lifting captain Graham Little - he helped steer Miramar Rangers to their 1-0 win over Waitakere City in 2004 - will be on the other side of the fence this time as Wellington United's player/coach as they tackle Rangers in what promises to be a right royal local derby.
"We have knocked out Wellington Olympic [last year's Cup-winners], who are top of the Central League, so anything is possible," said Little. "But we definitely haven't got the squad Miramar have got."
In the all-South Island affair, Ferrymead Bays entertain Dunedin's Caversham in Christchurch in the third of tomorrow's games.

CHATHAM CUP
Quarter-finals (all 2pm).-
TODAY
* East Coast Bays v Glenfield Rovers
Bay City Park
Referee: Nick Waldron
TOMORROW
* Forrest Hill Milford v Bay Olympic
Becroft Park
Referee: Mirko Benischke
* Miramar Rangers v Wellington United
David Farrington Park
Referee: Matt Conger
* Ferrymead Bays v Caversham
Barnett Park
Referee: Darren Sundborn