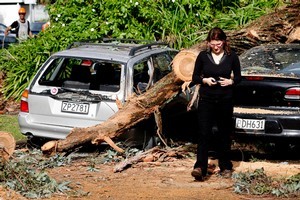 Two tourists who came to experience New Zealand's clean, green landscape had an unwanted brush with nature when their parked car was nearly flattened by a tree.
Broke backpackers James Nikitine and Sylvie Chappuis, from England and France, had planned to sell their car tomorrow to fund their last two months in the country.
But in high winds yesterday morning, a eucalyptus tree crashed onto the roof of the Mitsubishi Lancer in Howe St in the central Auckland suburb of Freemans Bay.
"The trees looked dangerous," said Mr Nikitine, 24. "They're hanging over the street, pavement and car park. It had to happen some day. Thankfully, no one got hurt."
No one was in the car but two windows were smashed and the roof badly dented.
Mr Nikitine said their third-party insurance did not cover the incident and because of the "act of God" they would now struggle to get by.
"Considering the fact that we need to sell the car to leave the country, we're a bit devastated."
The tree, which was planted on public land, caused at least $2000 of damage to the car. And with no jobs and little spare money, the pair are asking whether the council has a responsibility to cough up for the repairs.
"We're only backpackers, we're not really rich. We've only got savings for food, and we were counting on that money."
An Auckland City Council spokeswoman told the Herald the council would not compensate them. She said the normal practice was for the owners to lodge a claim with their own insurance company.
A council arborist visited the site yesterday and concluded that the huge tree fell through natural causes.
Mr Nikitine said residents of the street had complained about the trees before, but the council could not confirm this.