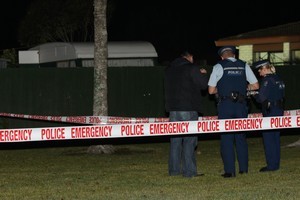 The man shot by police in west Auckland on Sunday has been remanded in custody on several charges after a brief appearance in court today.
Shannon Lawson, 38, was released from hospital today and appeared in Waitakere District Court on three charges of burglary, assault and using a gun against a police officer. He was remanded to reappear on August 5.
He was shot several times when police went to his mother's house in the Auckland suburb of New Lynn to talk to him about an arson.
He had surgery in Middlemore Hospital for gunshot wounds to his hand, arm and abdomen.
Detective Inspector Mark Gutry said the man was well enough to be released from hospital to attend court.
He would not say how many times Lawson was shot but said when he presented a firearm at police they opened fire and he was wounded.
He said Lawson presented the rifle at police but it "doesn't look like" he fired at police.
"But that is part of the inquiry now," Mr Gutry said.
He said the police examination of the Nikau Street property had been done and the house had been handed back to the owners.
- NZPA